Summary: The mGlu2 receptor plays a critical role in the effectiveness of ketamine for treating depression.
Source: University of Maryland School of Medicine
Effective treatment of clinical depression remains a major mental health issue, with roughly 30 percent of patients who do not respond to any of the available treatments. Researchers at the University of Maryland School of Medicine (UMSOM) have discovered how a crucial receptor called mGlu2 is critical to the mechanism of fast-acting antidepressants such as ketamine when used to treat depression.
This discovery into how this type of receptor in the brain works with fast-acting antidepressants is a critical discovery in treating depression because existing treatments can take weeks before they are effective. A single dose of ketamine that is lower than the amount required to cause anesthesia within 24 hours can alleviate depression in some treatment-resistant patients.
Todd Gould, MD., Associate Professor in the Department of Psychiatry, together with researchers from the National Institutes of Health Intramural Research Program, discovered that this special type of glutamate receptor interacts with ketamine's mechanism.
"Understanding the neurological response to antidepressants such as ketamine help us better understand depression and how to best treat this serious disease," said Dr. Gould.
The effects of ketamine can last up to a few weeks. And while it is a fast-acting treatment for depression, it is not an ideal treatment because it can alter sensory perception and has a high potential for abuse. Thus, there is a tremendous need to identify the mechanisms through which ketamine mediates its antidepressant effects to help identify alternative drugs that more specifically enhance the pathway in the brain that is suppressed in depressed patients.
Necessary Receptors
Dr. Gould's research, which was conducted in mice, showed that the mGlu2 receptor is necessary for the antidepressant activity of ketamine, and the ketamine metabolite. Researchers were able to uncover the important role this receptor plays in ketamine effectiveness by removing the gene for this receptor in mice, which in turn blocked the antidepressant effects of fast-acting treatment. Additionally, Dr. Gould's research provided evidence that an increase in a particular form of brain activity, measured by quantitative EEG, can be used as an indicator of the on-target activity of fast-acting antidepressants.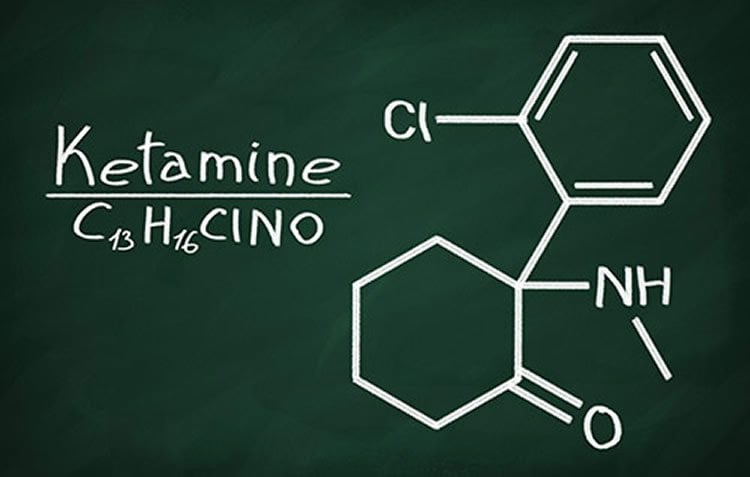 The researchers used mice to determine that (2R, 6R)-HNK's mechanism of action involved mGlu2 receptors. Various experimental strategies were applied, including pharmacological manipulation of mGlu2 activity, genetic knockout of the mGlu2-encoding gene, behavioral tests, and cortical EEG measurements.
"Having a better understanding of how the brain reacts to Ketamine is a critical pathway toward advancing treatment of Depression," said UMSOM Dean E. Albert Reece, MD, PhD, MBA, who is also the Executive Vice President for Medical Affairs, University of Maryland, and the John Z. and Akiko K. Bowers Distinguished Professor.
Funding: The research was funded by the National Institutes of Health, a Veterans Affairs Merit Award, a Harrington Discovery Institute Scholar-Innovator grant and the Kahlert Foundation.
About this neuroscience research article
Source:
University of Maryland School of Medicine
Media Contacts:
Joanne Morrison – University of Maryland School of Medicine
Image Source:
The image is adapted from the University of Maryland School of Medicine news release.
Original Research: Closed access.
"(2R,6R)-hydroxynorketamine exerts mGlu2 receptor-dependent antidepressant actions"
Panos Zanos, Jaclyn N. Highland, Brent W. Stewart, Polymnia Georgiou, Carleigh E. Jenne, Jacqueline Lovett, Patrick J. Morris, Craig J. Thomas, Ruin Moaddel, Carlos A. Zarate, Todd D. Gould
Proceedings of the National Academy of Sciences Mar 2019, 116 (13) 6441-6450 doi:10.1073/pnas.1819540116
Abstract
(2R,6R)-hydroxynorketamine exerts mGlu2 receptor-dependent antidepressant actions
Currently approved antidepressant drugs often take months to take full effect, and ∼30% of depressed patients remain treatment resistant. In contrast, ketamine, when administered as a single subanesthetic dose, exerts rapid and sustained antidepressant actions. Preclinical studies indicate that the ketamine metabolite (2R,6R)-hydroxynorketamine [(2R,6R)-HNK] is a rapid-acting antidepressant drug candidate with limited dissociation properties and abuse potential. We assessed the role of group II metabotropic glutamate receptor subtypes 2 (mGlu2) and 3 (mGlu3) in the antidepressant-relevant actions of (2R,6R)-HNK using behavioral, genetic, and pharmacological approaches as well as cortical quantitative EEG (qEEG) measurements in mice. Both ketamine and (2R,6R)-HNK prevented mGlu2/3 receptor agonist (LY379268)-induced body temperature increases in mice lacking the Grm3, but not Grm2, gene. This action was not replicated by NMDA receptor antagonists or a chemical variant of ketamine that limits metabolism to (2R,6R)-HNK. The antidepressant-relevant behavioral effects and 30- to 80-Hz qEEG oscillation (gamma-range) increases resultant from (2R,6R)-HNK administration were prevented by pretreatment with an mGlu2/3 receptor agonist and absent in mice lacking the Grm2, but not Grm3−/−, gene. Combined subeffective doses of the mGlu2/3 receptor antagonist LY341495 and (2R,6R)-HNK exerted synergistic increases on gamma oscillations and antidepressant-relevant behavioral actions. These findings highlight that (2R,6R)-HNK exerts antidepressant-relevant actions via a mechanism converging with mGlu2 receptor signaling and suggest enhanced cortical gamma oscillations as a marker of target engagement relevant to antidepressant efficacy. Moreover, these results support the use of (2R,6R)-HNK and inhibitors of mGlu2 receptor function in clinical trials for treatment-resistant depression either alone or in combination.
Feel free to share this Neuroscience News.