Summary: Karolinska Institute researchers report over-expression of the estrogen receptor causes neuroblastoma cells to mature into neuron-like cells.
Source: Karolinska Institute.
The female sex hormone estrogen can perform an important role in neuroblastoma, a form of cancer mainly affecting young children. In laboratory experiments, researchers at Karolinska Institutet in Sweden demonstrate that estrogen treatment and overexpression of the estrogen receptor cause malignant neuroblastoma cells to mature into neuron-like cells. The study, which is published in PNAS, gives hope of new treatment possibilities.
Neuroblastoma forms in the peripheral nervous system and is one of the most common forms of solid cancer in young children. The disease mainly affects babies and young children, and while in some cases the tumours can disappear of their own accord, the majority are aggressive, metastasising cancer tumours that are resistant to modern combinations of surgery, radiotherapy and intensive chemotherapy.
The most aggressive forms of neuroblastoma are often associated with a more active MYCN gene, which drives tumour cell growth and spread and inhibits the maturation of the cells.
"Our research focuses particularly on the activity of this gene and how it relates to neuroblastoma," says Professor Marie Arsenian-Henriksson at the Department of Microbiology, Tumour and Cell Biology, Karolinska Institutet. "MYCN is often seen only as a marker for a poor prognosis, but it's critical to the disease and is a possible target for new drugs."
In a previous study, her group discovered that activation of MYCN results in the formation of specific microRNAs, which are relatively small RNA molecules that regulate proteins. Some of these microRNAs disable the estrogen receptor ERalpha. The present study shows that the inhibition of these microRNA molecules or estrogen therapy in combination with an overexpression of the estrogen receptor can cause aggressive neuroblastoma cells with MYCN activation to mature into neuron-like cells which behave more like normal cells.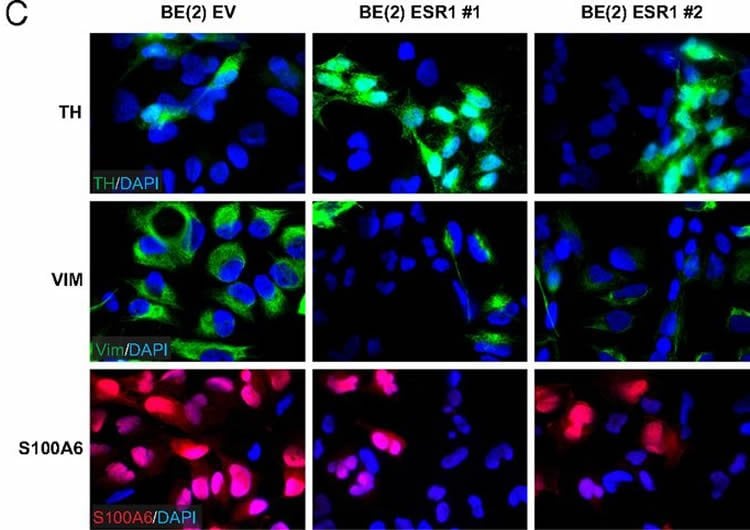 The researchers studied tumour tissue from patients, cultivated human tumour cells and tumours in mouse models for neuroblastoma. In the mice, the neuron-like cells did not grow as quickly as the original cancer cells, and analyses of the tumour tissue from patients show that those with a high level of the estrogen receptor have a better survival rate that those with a low.
"Our data suggests that estrogen could be a therapeutic method for patients who express high levels of the estrogen receptor," continues Professor Arsenian-Henriksson. "Another possible therapy could involve deregulating MYCN or upregulating the estrogen receptor and then treating with estrogen. We have previously shown that the deregulation of MYCN leads to a high expression of the estrogen receptor."
About this neuroscience research article
Funding: The study was financed by the Lars Hierta Memorial Foundation, the Mary Béve Foundation for Childhood Cancer Research, the Anna-Brita and Bo Castegren Memorial Foundation, the Swedish Cancer Society, the Swedish Research Council, the Swedish Childhood Cancer Foundation, the King Gustaf V's Jubilee Fund and Karolinska Institutet.
Source: Karolinska Institute
Publisher: Organized by NeuroscienceNews.com.
Image Source: NeuroscienceNews.com image is Arsenian-Henriksson et al./PNAS.
Original Research: Open access research in PNAS.
doi:10.1073/pnas.1710901115
Cite This NeuroscienceNews.com Article
[cbtabs][cbtab title="MLA"]Karolinska Institute "Estrogen Causes Neuroblastoma Cells to Mature into Neurons." NeuroscienceNews. NeuroscienceNews, 29 January 2018.
<https://neurosciencenews.com/estrogen-neuroblastoma-neurons-8397/>.[/cbtab][cbtab title="APA"]Karolinska Institute (2018, January 29). Estrogen Causes Neuroblastoma Cells to Mature into Neurons. NeuroscienceNews. Retrieved January 29, 2018 from https://neurosciencenews.com/estrogen-neuroblastoma-neurons-8397/[/cbtab][cbtab title="Chicago"]Karolinska Institute "Estrogen Causes Neuroblastoma Cells to Mature into Neurons." https://neurosciencenews.com/estrogen-neuroblastoma-neurons-8397/ (accessed January 29, 2018).[/cbtab][/cbtabs]
---
Abstract
MYCN-amplified neuroblastoma maintains an aggressive and undifferentiated phenotype by deregulation of estrogen and NGF signaling
Neuroblastoma (NB) is a remarkably heterogenic childhood tumor of the sympathetic nervous system with clinical behavior ranging from spontaneous regression to poorly differentiated tumors and metastasis. MYCN is amplified in 20% of cases and correlates with an undifferentiated, aggressive phenotype and poor prognosis. Estrogen receptor alpha (ERα) and the nerve growth factor (NGF) receptors TrkA and p75NTR are involved in neuronal differentiation and survival. We have previously shown that MYCN, via miR-18a, targets ERα in NB cells. Here, we demonstrate that interference with miR-18a or overexpression of ERα is sufficient to induce NGF signaling and to modulate both basal and NGF-induced neuronal differentiation in MYCN-amplified NB cells. Proteomic analysis confirmed an increase of neuronal features and showed that processes linked to tumor initiation and progression were inhibited upon ERα overexpression. Indeed, ectopic ERα expression was sufficient to inhibit metabolic activity and tumorigenic processes, including glycolysis, oxidative phosphorylation, cell viability, migration, and anchorage independent growth. Importantly, ERα overexpression reduced tumor burden in NB mouse models and high ERα levels were linked to improved survival in patients. In addition to ERα, several other nuclear hormone receptors (NHRs), including the glucocorticoid and the retinoic acid receptors, correlated with clinical markers for favorable and low-stage NB disease. Our data suggest that MYCN targets ERα and thereby NGF signaling to maintain an undifferentiated and aggressive phenotype. Notably, we identified the estrogen–NGF crosstalk, as well as a set of other NHRs, as potential prognostic markers and targets for therapeutic strategies against NB.
Feel free to share this Neuroscience News.