Muscle regeneration in mouse models of Duchenne muscular dystrophy is improved when THI is purified and given in appropriate doses, a new study suggests.
Researchers have been able to repair a defect responsible for Duchenne muscular dystrophy by using a novel genetic editing technique.
A nationwide clinical trial for a new type treatment that could offer help to those suffering from Duchenne Muscular Dystrophy, a devastating neuromuscular disease.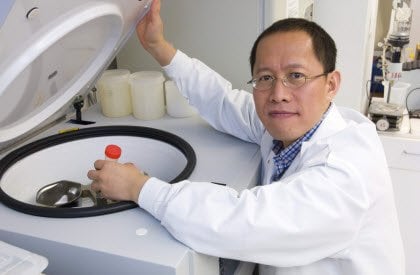 Scientists identified a sequence in the dystrophin gene that is essential for helping muscle tissues function, a breakthrough discovery that could lead to treatments for the deadly hereditary disease.
RTC 13 effectively counteracts 'nonsense' mutation that causes disorder. Scientists at UCLA have identified a new compound that could treat...
Researchers from the University of Minnesota's Lillehei Heart Institute have effectively treated muscular dystrophy in mice using human stem cells...