Researchers mobilize the brain's native stem cells to replenish medium spiny neurons which are lost in Huntington's disease.
Researchers examine how individuality develops through adult neurogenesis; the generation of new neurons in the hippocampus which allows the brain to react flexibly to new information.
A new study argues that prolonged chemotherapy decreases the development of new brain cells, and disrupts ongoing brain rhythms in the part of the brain responsible for making new memories.
Scientists have discovered that significantly more neurons are generated in the brains of older animals if the signaling molecule Dickkopf-1 is turned off. The results give rise to the question whether the function of Dickkopf-1 may be turned off using drugs to prevent age related cognitive decline.
Drinking a couple of glasses of wine each day has generally been considered a good way to promote cardiovascular and brain health. A new study indicates there is a fine line between moderate and binge drinking - a risky behavior that can decrease the making of adult brain cells by as much as 40 percent.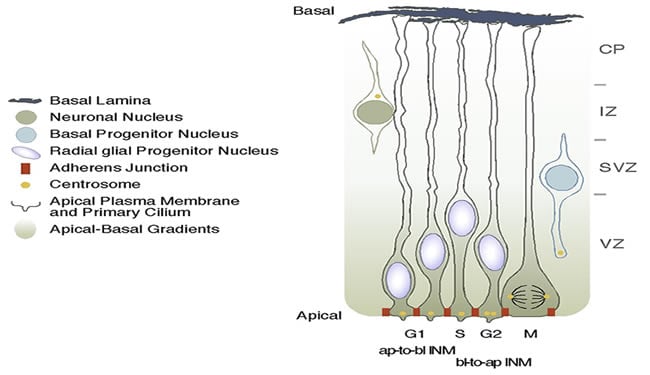 Researchers solved an important piece of one of neuroscience's outstanding puzzles: how progenitor cells in the developing mammalian brain reproduce themselves while also giving birth to neurons that will populate the emerging cerebral cortex, the seat of cognition and executive function in the mature brain.
Neuroscience researchers show how astrocytes control the generation of new neurons in the brain. "In the brain, astrocytes control how many new neurons are formed from neural stem cells and survive to integrate into the existing neuronal networks. Astrocytes do this by secreting specific molecules but also by much less understood direct cell-cell interactions with stem cells", says Prof. Milos Pekny.
Working with mice, Johns Hopkins researchers say they have figured out how stem cells found in a part of the brain responsible for learning, memory and mood regulation decide to remain dormant or create new brain cells. Apparently, the stem cells "listen in" on the chemical communication among nearby neurons to get an idea about what is stressing the system and when they need to act.
Southwestern Medical Center investigators have identified a genetic manipulation that increases the development of neurons in the brain during aging...
A study of the salamander brain has led researchers at Karolinska Institutet to discover a hitherto unknown function of the...