Researchers have discovered clues to the development of the head at the cellular level, which could point scientists to a better understanding of how organs and birth defects form in humans.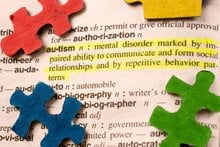 A comprehensive analysis of feeding behavior in children with autism spectrum disorders indicates that these children are five times more likely to have a feeding problem, including extreme tantrums during meals, severe food selectivity and ritualistic mealtime behaviors.
A gene whose mutation results in malformed faces and skulls as well as mental retardation has been found by scientists.