Researchers at the University of Maryland and the University of Virginia have performed the first focused ultrasound treatments in the United States for dyskinesia associated with Parkinson's disease.
These treatments are part of international pilot studies of 40 patients assessing the feasibility, safety and preliminary efficacy of MR-guided focused ultrasound pallidotomy for dyskinesia that occurs with Parkinson's disease.
Investigators are using magnetic resonance imaging (MR) to guide ultrasound waves through the intact skin and skull to reach the globus pallidus, a structure deep in the brain. If successful, focused ultrasound could offer an alternative approach for certain patients with Parkinson's disease who have failed medical therapy or become disabled from medication-induced dyskinesia. To date, seven patients in Korea and one patient in Canada have been treated in studies.
"We are excited to offer our patients a new, non-invasive therapy to control their Parkinson's symptoms," said Howard M. Eisenberg, MD, Chair of Neurosurgery at the University of Maryland School of Medicine. "The neurology community has made significant strides in helping patients with Parkinson's over the years; utilization of MR-guided focused ultrasound could help limit the life-altering side effects like dyskinesia to make the disease more manageable and less debilitating."
"This opens up a new frontier for focused ultrasound therapy, building upon previous research which suggests that focused ultrasound can alleviate essential tremor," said Jeff Elias, MD, Professor of Neurological Surgery at the University of Virginia. Dr. Elias led the Focused Ultrasound Foundation-funded pilot trial which investigated focused ultrasound for essential tremor (ET). The ET study results were published in the New England Journal of Medicine, and led to a larger pivotal trial, which was recently completed. In addition, enrollment has just completed in a pilot study assessing focused ultrasound for tremor-dominant Parkinson's disease.
The Parkinson's dyskinesia studies are being conducted using the ExAblate Neuro system developed by Insightec. "This is another major achievement in the development of focused ultrasound, which is under investigation to provide less invasive relief to patients suffering from movement disorders. We congratulate the teams in Maryland and Virginia for their pioneering spirit and support of the technology," said Eyal Zadicario, Vice President for R&D and Director of Insightec's Brain Program.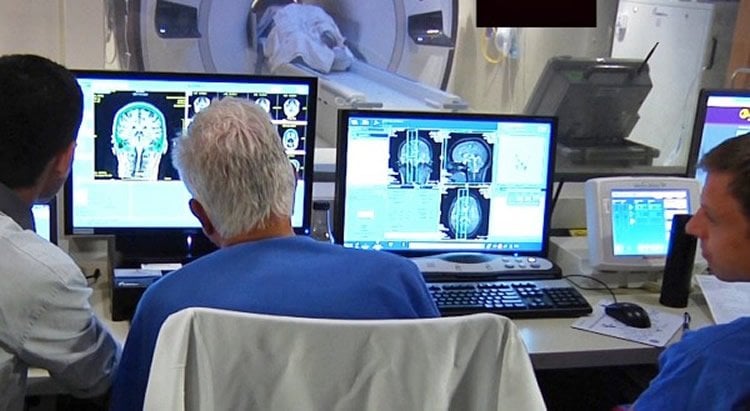 Funding for the Parkinson's dyskinesia studies has been provided by the Focused Ultrasound Foundation and The Michael J. Fox Foundation for Parkinson's Research, in collaboration with Insightec as regulatory sponsor. Eligible patients will include those whose medication has failed to satisfactorily control dyskinesia, who are not candidates for surgery or who choose not to undergo surgery. If the trials are successful, a large study is planned in advance of seeking FDA approval and reimbursement of focused ultrasound to treat Parkinson's disease.
"This milestone marks an important step forward in the development of focused ultrasound as an alternative for Parkinson's and other movement disorders as well as brain tumors," said Foundation Chairman Neal F. Kassell. "This progress reflects the work of many innovative minds and the collaboration of several organizations committed to advancing paradigm-shifting solutions."
About this Parkinson's disease research
Source: Susan Klees – Focused Ultrasound Foundation
Image Source: The image is credited to University of Maryland/Focused Ultrasound Foundation
Original Research: Full open access research for "A Pilot Study of Focused Ultrasound Thalamotomy for Essential Tremor" by W. Jeffrey Elias, M.D., Diane Huss, P.T., D.P.T., N.C.S., Tiffini Voss, M.D., Johanna Loomba, B.S., Mohamad Khaled, M.D., Eyal Zadicario, M.Sc., Robert C. Frysinger, Ph.D., Scott A. Sperling, Psy.D., Scott Wylie, Ph.D., Stephen J. Monteith, M.D., Jason Druzgal, M.D., Ph.D., Binit B. Shah, M.D., Madaline Harrison, M.D., and Max Wintermark, M.D. in New England Journal of Medicine. Published online August 15 2015 doi:10.1056/NEJMoa1300962
---
Abstract
A Pilot Study of Focused Ultrasound Thalamotomy for Essential Tremor
In mammals, one of the most salient outputs of the circadian (daily) clock is the timing of the sleep–wake cycle. Modern industrialized society has led to a fundamental breakdown in the relationship between our endogenous timekeeping systems and the solar day, disrupting normal circadian rhythms. We have argued that disrupted circadian rhythms could lead to changes in allostatic load, and the capacity of organisms to respond to other environmental challenges. In this set of studies, we apply a model of circadian disruption characterized in our lab in which mice are housed in a 20 h long day, with 10 h of light and 10 h of darkness. We explored the effects of this environmental disruption on sleep patterns, to establish if this model results in marked sleep deprivation. Given the interaction between circadian, sleep, and immune systems, we further probed if our model of circadian disruption also alters the innate immune response to peripheral bacterial endotoxin challenge. Our results demonstrate that this model of circadian disruption does not lead to marked sleep deprivation, but instead affects the timing and quality of sleep. We also show that while circadian disruption does not lead to basal changes in the immune markers we explored, the immune response is affected, both in the brain and the periphery. Together, our findings further strengthen the important role of the circadian timing system in sleep regulation and immune responses, and provide evidence that disrupting the circadian clock increases vulnerability to further environmental stressors, including immunological challenges.
"Environmental disruption of the circadian clock leads to altered sleep and immune responses in mouse" by Derrick J. Phillips, Marina I. Savenkova, and Ilia N. Karatsoreos in New England Journal of Medicine. Published online July 2015 doi:10.1016/j.bbi.2014.12.008
Feel free to share this Neuroscience News.