Summary: Researchers have developed a 3D printed prototype for a bionic eye. The team successfully printed an array of light receptors onto a hemispherical surface. This advance could revolutionize restoring vision to those who have lost their sight.
Source: University of Minnesota.
A team of researchers at the University of Minnesota have, for the first time, fully 3D printed an array of light receptors on a hemispherical surface. This discovery marks a significant step toward creating a "bionic eye" that could someday help blind people see or sighted people see better.
The research is published today in Advanced Materials, a peer-reviewed scientific journal covering materials science. The author also holds the patent for 3D-printed semiconducting devices.
"Bionic eyes are usually thought of as science fiction, but now we are closer than ever using a multimaterial 3D printer," said Michael McAlpine, a co-author of the study and University of Minnesota Benjamin Mayhugh Associate Professor of Mechanical Engineering.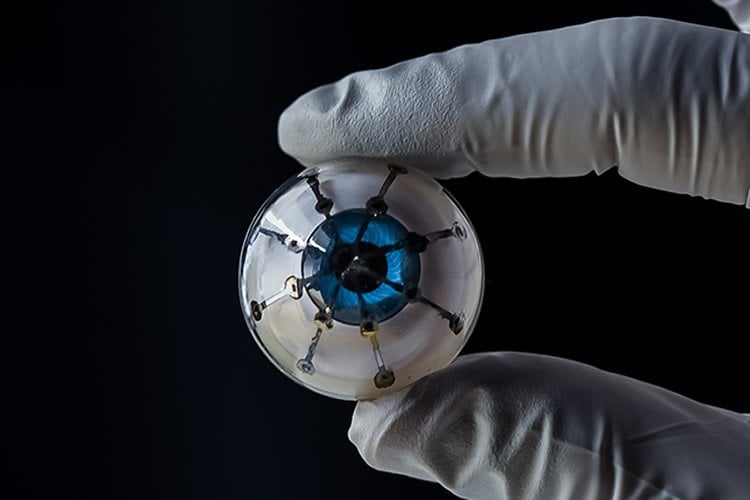 Researchers started with a hemispherical glass dome to show how they could overcome the challenge of printing electronics on a curved surface. Using their custom-built 3D printer, they started with a base ink of silver particles. The dispensed ink stayed in place and dried uniformly instead of running down the curved surface. The researchers then used semiconducting polymer materials to print photodiodes, which convert light into electricity. The entire process takes about an hour.
McAlpine said the most surprising part of the process was the 25 percent efficiency in converting the light into electricity they achieved with the fully 3D-printed semiconductors.
"We have a long way to go to routinely print active electronics reliably, but our 3D-printed semiconductors are now starting to show that they could potentially rival the efficiency of semiconducting devices fabricated in microfabrication facilities," McAlpine said. "Plus, we can easily print a semiconducting device on a curved surface, and they can't."
McAlpine and his team are known for integrating 3D printing, electronics, and biology on a single platform. They received international attention a few years ago for printing a "bionic ear." Since then, they have 3D printed life-like artificial organs for surgical practice, electronic fabric that could serve as "bionic skin," electronics directly on a moving hand, and cells and scaffolds that could help people living with spinal cord injuries regain some function.
McAlpine's drive to create a bionic eye is a little more personal.
"My mother is blind in one eye, and whenever I talk about my work, she says, 'When are you going to print me a bionic eye?'" McAlpine said.
McAlpine says the next steps are to create a prototype with more light receptors that are even more efficient. They'd also like to find a way to print on a soft hemispherical material that can be implanted into a real eye.
About this neuroscience research article
McAlpine's research team includes University of Minnesota mechanical engineering graduate student Ruitao Su, postdoctoral researchers Sung Hyun Park, Shuang-Zhuang Guo, Kaiyan Qui, Daeha Joung, Fanben Meng, and undergraduate student Jaewoo Jeong.
Funding: The research was funded by the National Institute of Biomedical Imaging and Bioengineering of the National Institutes of Health (Award No. 1DP2EB020537), The Boeing Company, and the Minnesota Discovery, Research, and InnoVation Economy (MnDRIVE) Initiative through the State of Minnesota.
Source: University of Minnesota
Publisher: Organized by NeuroscienceNews.com.
Image Source: NeuroscienceNews.com image is credited to University of Minnesota, McAlpine Group.
Video Source: Video credited to College of Science and Engineering, UMN.
Original Research: Abstract for "3D Printed Polymer Photodetectors" by Sung Hyun Park, Ruitao Su, Jaewoo Jeong, Shuang‐Zhuang Guo, Kaiyan Qiu, Daeha Joung, Fanben Meng, and Michael C. McAlpine in Advanced Materials. Published August 28 2018.
doi:10.1002/adma.201803980
Cite This NeuroscienceNews.com Article
[cbtabs][cbtab title="MLA"]University of Minnesota"Researchers 3D Print Prototype for a 'Bionic Eye'." NeuroscienceNews. NeuroscienceNews, 29 August 2018.
<https://neurosciencenews.com/3d-print-bionic-eye-9766/>.[/cbtab][cbtab title="APA"]University of Minnesota(2018, August 29). Researchers 3D Print Prototype for a 'Bionic Eye'. NeuroscienceNews. Retrieved August 29, 2018 from https://neurosciencenews.com/3d-print-bionic-eye-9766/[/cbtab][cbtab title="Chicago"]University of Minnesota"Researchers 3D Print Prototype for a 'Bionic Eye'." https://neurosciencenews.com/3d-print-bionic-eye-9766/ (accessed August 29, 2018).[/cbtab][/cbtabs]
---
Abstract
3D Printed Polymer Photodetectors
Extrusion‐based 3D printing, an emerging technology, has been previously used in the comprehensive fabrication of light‐emitting diodes using various functional inks, without cleanrooms or conventional microfabrication techniques. Here, polymer‐based photodetectors exhibiting high performance are fully 3D printed and thoroughly characterized. A semiconducting polymer ink is printed and optimized for the active layer of the photodetector, achieving an external quantum efficiency of 25.3%, which is comparable to that of microfabricated counterparts and yet created solely via a one‐pot custom built 3D‐printing tool housed under ambient conditions. The devices are integrated into image sensing arrays with high sensitivity and wide field of view, by 3D printing interconnected photodetectors directly on flexible substrates and hemispherical surfaces. This approach is further extended to create integrated multifunctional devices consisting of optically coupled photodetectors and light‐emitting diodes, demonstrating for the first time the multifunctional integration of multiple semiconducting device types which are fully 3D printed on a single platform. The 3D‐printed optoelectronic devices are made without conventional microfabrication facilities, allowing for flexibility in the design and manufacturing of next‐generation wearable and 3D‐structured optoelectronics, and validating the potential of 3D printing to achieve high‐performance integrated active electronic materials and devices.
Feel free to share this Neuroscience News.