Summary: A neuroimaging study found highly schizotypal people have reduced brain responses to those without the personality trait. Researchers report schizophrenia, and other mental illnesses, may be thought of as extreme variants of specific personality types.
Source: University of Nottingham.
Researchers have found that the signals in people's brains differ depending on a particular aspect of an individual's personality, termed Schizotypy, a discovery that could improve the way schizophrenia is characterised and treated.
The study – Attenuated Post-Movement Beta Rebound associated with schizotypal features in healthy people – published in Schizophrenia Bulletin was led by the University of Nottingham and the findings suggest that many mental illnesses may be thought of as extreme variants of a normal personality.

Shared thinking patterns
People's personalities vary in many ways and this variation can be measured using questionnaires. Similarly to how some people are more or less outgoing, a healthy individual with a highly schizotypal personality shares more 'thinking patterns' with a person diagnosed with schizophrenia. This bridge between normal personality and mental illness provided a way for the researchers to understand if the brains of patients with schizophrenia are totally distinct from healthy volunteers, or whether they overlap.
The researchers used a technique called Magnetoencephalography (MEG) to measure volunteer's brain waves while they moved their index finger. In 2016 a Nottingham led-team using the same technique found the brain response to this finger movement was reduced in patients with schizophrenia. The more severe the patient's symptoms, the more the response was reduced. In this latest work, a similar relationship was found but in healthy volunteers. Volunteers with a personality more similar to that of a person with schizophrenia, or highly schizotypal, had a reduced brain response as compared to those with less schizophrenia-like personalities.

Diagnosis and planning
Although more research is required, the researchers hope that in the future this or a similar technique will be used to help in the diagnosis and planning of treatment for people with mental health problems. Peter Liddle, professor of psychiatry at the University's Institute of Mental Health, and the study's senior author commented: "This finding should help to dispel the idea that people with serious mental problems are categorically different from so-called "normal" people. Even more importantly, it tells us that the same kinds of strategies that help any of us deal with the challenges we face in everyday life could also be helpful in dealing with the more demanding challenges faced by people with serious illness. Nonetheless it would be a mistake to under-estimate those challenges."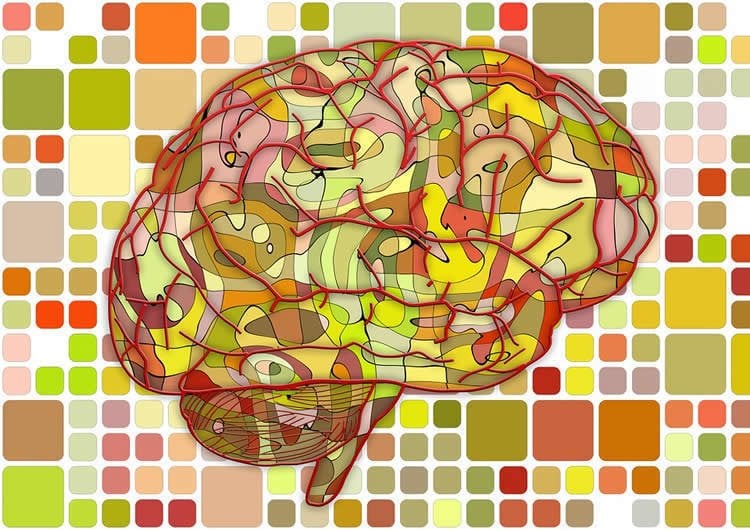 The research, carried out at the University of Nottingham's Sir Peter Mansfield Imaging Centre and Cardiff University, was part of a much larger project aiming to provide scientists with a detailed picture of healthy brain function when using MEG. MEG is relatively rare technique, with less than 150 machines across the world.
Dr Benjamin Hunt, lead author of this research and who now works at the Hospital for Sick Children in Toronto, Canada, commented: "MEG is an incredibly powerful technique to look at how the brain functions. Although this work is extremely exciting for the study of psychosis, it builds on other exciting work demonstrating that MEG can be useful for mental health diagnoses. I also hope that by showing there to be a continuous brain link between healthy people and people with schizophrenia, this work will help to remove the stigma associated with mental illness."
About this neuroscience research article
Source: Jane Icke – University of Nottingham
Publisher: Organized by NeuroscienceNews.com.
Image Source: NeuroscienceNews.com image is in the public domain.
Original Research: Open access research for "Attenuated Post-Movement Beta Rebound Associated With Schizotypal Features in Healthy People" by Benjamin A E Hunt, Elizabeth B Liddle, Lauren E Gascoyne, Lorenzo Magazzini, Bethany C Routley, Krish D Singh, Peter G Morris, Matthew J Brookes, and Peter F Liddle in Schizophrenia Bulletin . Published September 18 2018.
doi:10.1093/schbul/sby117
Cite This NeuroscienceNews.com Article
[cbtabs][cbtab title="MLA"]University of Nottingham"Research Suggests Schizophrenia is an Extreme Version of a Common Personality Type." NeuroscienceNews. NeuroscienceNews, 18 September 2018.
<https://neurosciencenews.com/schizophrenia-personality-type-9881/>.[/cbtab][cbtab title="APA"]University of Nottingham(2018, September 18). Research Suggests Schizophrenia is an Extreme Version of a Common Personality Type. NeuroscienceNews. Retrieved September 18, 2018 from https://neurosciencenews.com/schizophrenia-personality-type-9881/[/cbtab][cbtab title="Chicago"]University of Nottingham"Research Suggests Schizophrenia is an Extreme Version of a Common Personality Type." https://neurosciencenews.com/schizophrenia-personality-type-9881/ (accessed September 18, 2018).[/cbtab][/cbtabs]
---
Abstract
Attenuated Post-Movement Beta Rebound Associated With Schizotypal Features in Healthy People
Schizophrenia and schizotypal personality disorder (SPD) lie on a single spectrum of mental illness and converging evidence suggests similarities in the etiology of the 2 conditions. However, schizotypy is a heterogeneous facet of personality in the healthy population and so may be seen as a bridge between health and mental illness. Neural evidence for such a continuity would have implications for the characterization and treatment of schizophrenia. Based on our previous work identifying a relationship between symptomology in schizophrenia and abnormal movement-induced electrophysiological response (the post-movement beta rebound [PMBR]), we predicted that if subclinical schizotypy arises from similar neural mechanisms to schizophrenia, schizotypy in healthy individuals would be associated with reduced PMBR.
Methods
One-hundred sixteen participants completed a visuomotor task while their neural activity was recorded by magnetoencephalography. Partial correlations were computed between a measure of PMBR extracted from left primary motor cortex and scores on the Schizotypal Personality Questionnaire (SPQ), a self-report measure of schizotypal personality. Correlations between PMBR and SPQ factor scores measuring cognitive-perceptual, interpersonal and disorganization dimensions of schizotypy were also computed. Effects of site, age, and sex were controlled for.
Results
We found a significant negative correlation between total SPQ score and PMBR. This was most strongly mediated by variance shared between interpersonal and disorganization factor scores.
Conclusion
These findings indicate a continuum of neural deficit between schizotypy and schizophrenia, with diminution of PMBR, previously reported in schizophrenia, also measurable in individuals with schizotypal features, particularly disorganization and impaired interpersonal relations.
Feel free to share this Neuroscience News.