First study to detail working memory deficits and cognitive recovery during initial week after concussion.
Researchers published results of a novel study of the functional activation patterns of working memory after mild traumatic brain injury (TBI). This study, the first to enroll subjects during their initial evaluation in the emergency room, provides new information on the acute effects of TBI on cognition. The fMRI studies, conducted at <72 hours after injury and at one week after TBI, provide neuroimaging evidence for working memory deficits during the week following injury.
Forty-six participants were enrolled; 27 with isolated mild TBI and 19 controls who had nonsurgical extremity injuries and no head trauma. All underwent fMRI and Immediate Post-Concussion Assessment and Cognitive Testing (ImPACT). At one week followup, 64% of the TBI subjects reported moderate to complete recovery. Cognitive improvement corresponded with normalization of activation patterns on fMRI.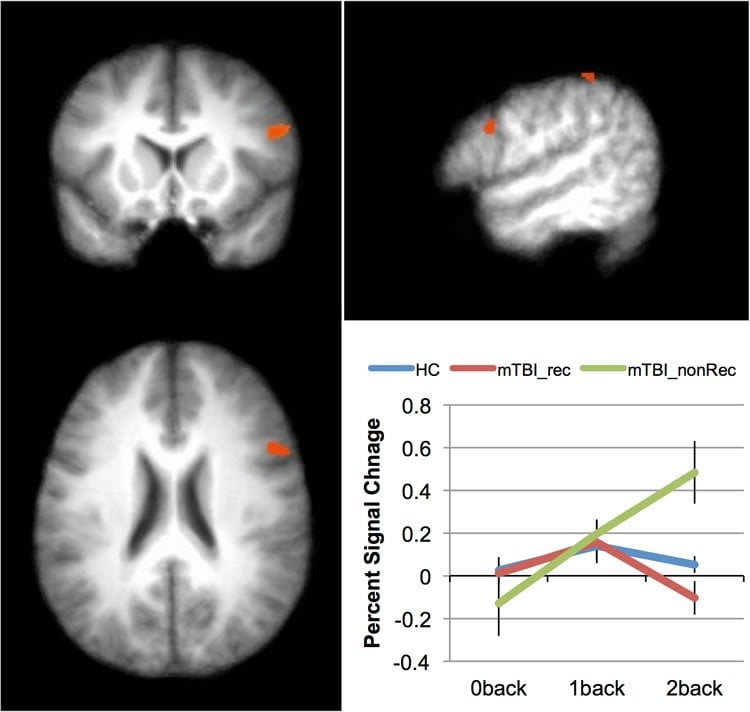 "We were interested in the effect of concussion on working memory immediately following injury and after one week of recovery," explained Glenn Wylie, DPhil, associate director of the Rocco Ortenzio Neuroimaging Center at Kessler Foundation. "We found increased activation in TBI subjects compared with controls," noted Dr. Wylie. "Also, activation increased as workload increased in the TBI group, and increases were greater in those whose cognition failed to improve. This study is the first step toward understanding the early effects of mild TBI on cognition. Predicting recovery will require the development of effective, low-cost measures that correlate with changes in patterns of brain activation."
Funding: The study was funded by an internal grant from the Department of Surgery at the University of Vermont (K.F.) and Kessler Foundation.
Source: Carolann Murphy, PA – Kessler Foundation
Image Source: The image is credited to Naylor et al./PLOS ONE
Original Research: Full open access research for "Cognitive Improvement after Mild Traumatic Brain Injury Measured with Functional Neuroimaging during the Acute Period" by Glenn R. Wylie, Kalev Freeman, Alex Thomas, Marina Shpaner, Michael OKeefe, Richard Watts, and Magdalena R. Naylor in PLOS ONE. Published online May 11 2015 doi:10.1371/journal.pone.0126110
---
Abstract
Cognitive Improvement after Mild Traumatic Brain Injury Measured with Functional Neuroimaging during the Acute Period
Throughout life, neural stem cells (NSCs) generate neurons in the mammalian brain. Using photobleaching experiments, we found that during cell division in vitro and within the developing mouse forebrain, NSCs generate a lateral diffusion barrier in the membrane of the endoplasmic reticulum, thereby promoting asymmetric segregation of cellular components. The diffusion barrier weakens with age and in response to impairment of lamin-associated nuclear envelope constituents. Weakening of the diffusion barrier disrupts asymmetric segregation of damaged proteins, a product of aging. Damaged proteins are asymmetrically inherited by the nonstem daughter cell in embryonic and young adult NSC divisions, whereas in the older adult brain, damaged proteins are more symmetrically distributed between progeny. Thus, these data identify a mechanism of how damage that accumulates with age is asymmetrically distributed during somatic stem cell division.
"A mechanism for the segregation of age in mammalian neural stem cells" by D. L. Moore, G. A. Pilz, M. J. Araúzo-Bravo, Y. Barral, and S. Jessberger in Science. Published online September 17 2015 doi:10.1126/science.aac9868
Feel free to share this Neuroscience News.