Summary: Study shows adolescents find vaping nicotine more rewarding than adults, and do so after shorter exposure. The findings may explain why vaping is so popular in the teenage demographic.
Source: University of Guelph
University of Guelph researchers are the first to discover that adolescents react differently to e-cigarette vapor than adults.
Led by Prof. Jibran Khokhar, Department of Biomedical Science in U of G's Ontario Veterinary College, the rodent-based research measured behavioural responses related to vaping.
"This is the first study to show that rodents find e-cigarette vapor rewarding in a conditioned place preference experiment," Khokhar said, referring to animals' preference for a chamber in which experimenters previously exposed them to a drug.
"It also shows that adolescents find the nicotine vapor more rewarding compared to adults, and do so even at shorter exposures, which are not rewarding for the adults."
Published recently in eNeuro, the research is the first to use a U of G-developed technology called OpenVape, which makes the study of vaping more accessible. The apparatus can be used with various vaporizers, is easy to build and costs less than existing technologies.
"The OpenVape device opens a lot of new doors for researchers trying to test the effects of exposures in a manner akin to the route used by humans," Khokhar said.
The research findings are important, he added, because they may help explain why e-cigarettes are so popular with adolescents and why there is a steady rise in their use.
Recent years have seen a sharp increase in adolescent vaping. E-cigarette use more than doubled between 2017 and 2019 in Ontario among Grade 7-12 students. Between 2017 and 2019, vaping rates doubled among Ontario teens, from 11 percent to 23 percent.
"The adolescent brain may be especially vulnerable to the rewarding effects of nicotine vapour," Khokhar said. "The shorter exposures may also suggest that it might take very limited exposure to the vapour for adolescents to experience the rewarding effects, and this may contribute to their continued use."
A growing body of literature suggests adolescents are especially vulnerable to the addictive effects of nicotine, he added. Longitudinal studies associate adolescent e-cigarette use with a greater risk of cigarette smoking in future.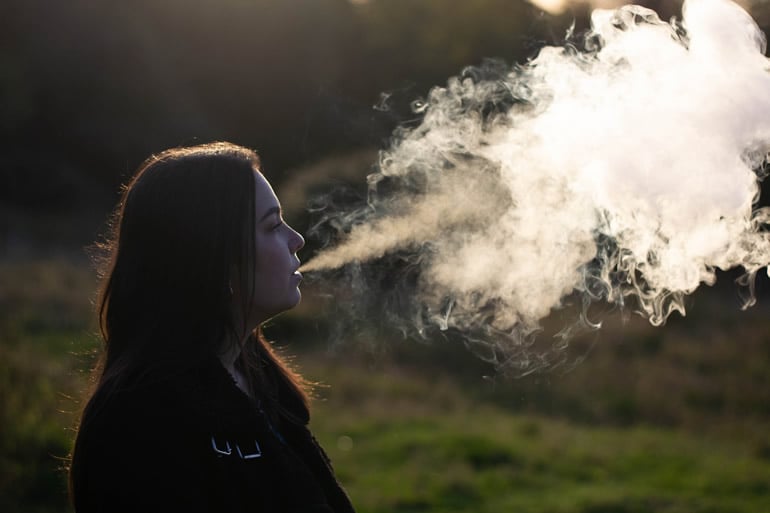 "The findings from our study will help uncover the mechanisms underlying the vulnerability of the adolescent brain to the rewarding effects of e-cigarette vapour as well as the long-term consequences of adolescent vapour exposure," Khokhar said.
Next, he plans to look at the long-term consequences of adolescent exposure to e-cigarette vapour on behaviours related to tobacco consumption.
"Studies in humans suggest that adolescent vaping increases the risk for switching to combustible tobacco, so we would be able to answer whether that association is causal," he said. "We will also explore the brain mechanisms that make adolescents more vulnerable, as well as the long-term changes in brain activity and function after adolescent exposure."
Funding: His research was supported by a Discovery Grant from the Natural Sciences and Engineering Research Council, as well as funding from the Canada Research Chairs program and the Canadian Institutes of Health Research.
About this neuroscience research article
Source:
University of Guelph
Contacts:
Jibran Y. Khokhar – University of Guelph
Image Source:
The image is in the public domain.
Original Research: Closed access
"OpenVape: an Open-Source E-Cigarette Vapour Exposure Device for Rodents" by Jude A. Frie, Jacob Underhill, Bin Zhao, Giordano de Guglielmo, Rachel F. Tyndale and Jibran Y. Khokhar. ENeuro.
---
Abstract
OpenVape: an Open-Source E-Cigarette Vapour Exposure Device for Rodents
The prevalence of "vaping" has recently seen significant increases in North America, especially in adolescents. However, the behavioural correlates of vaping are largely unexplored. The uptake of existing technologies meant for rodent vapour inhalation remains limited due to a lack of affordability and versatility (ability to be used with a variety of vapourizers). The OpenVape offers an open-source, low-cost solution that can be used in a variety of research contexts. Here we present a specific use case, combining the OpenVape apparatus with JUUL e-cigarettes. This apparatus consists of Arduino-operated vacuum pumps that deliver vapour directly from e-cigarettes to exposure chambers. The OpenVape is easy to build and customize for any type of vapourizer (e.g., nicotine pod or tank; cannabis flower or concentrates). To test the OpenVape, we performed biochemical verification and behavioural studies. The behavioural test (conditioned place preference) was conducted using adolescent and adult animals to assess developmental differences in the rewarding effects of nicotine vapour, as previously observed with injected nicotine. These findings demonstrate that even after brief exposures to nicotine vapour, pharmacologically relevant nicotine and cotinine levels could be detected in plasma, and significant conditioned place preference was observed, especially in adolescent rats which showed preference at shorter puff delivery durations (lower nicotine doses) compared to adults. Together, these findings suggest that OpenVape provides an affordable, open-source option for pre-clinical behavioural research into the effects of vaping.