Summary: Low intensity electrical stimulation to specific brain areas can help to improve short term verbal memory, researchers report.
Source: Mayo Clinic.
Tickling the brain with low-intensity electrical stimulation in a specific area can improve verbal short-term memory. Mayo Clinic researchers report their findings in Brain.
The researchers found word recall was enhanced with stimulation of the brain's lateral temporal cortex, the regions on the sides of the head by the temples and ears. Patients recalled more words from a previously viewed list when low-amplitude electrical stimulation was delivered to the brain. One patient reported that it was easier to picture the words in his mind for remembering.
"The most exciting finding of this research is that our memory for language information can be improved by directly stimulating this underexplored brain area," says Michal Kucewicz, Ph.D., a Mayo Clinic researcher in the Department of Neurology and co-first author. Dr. Kucewicz compares the stimulation to "tickling" the brain.
Memory impairments are a prevalent, costly problem in many brain diseases. Medication and behavioral therapies have limited effectiveness in many cases. "While electrical stimulation of the brain is emerging as potential therapy for a wide range of neurological and psychiatric diseases, little is known about its effect on memory," says Gregory Worrell, M.D., Ph.D., a Mayo Clinic neurologist and senior author of the article.
The Mayo researchers are part of a multicenter collaboration led by Michael Kahana, Ph.D., University of Pennsylvania in Philadelphia. This collaboration includes seven academic medical centers.
"The next step for this project is to determine how to best apply electrical current in terms of the exact location within this area of the brain, timing and parameters of stimulation," says Brent Berry, M.D., Ph.D., a Mayo Clinic researcher in the Department of Physiology and Biomedical Engineering and co-first author.
In this Brain paper, Drs. Kucewicz and Berry, and colleagues focused their study on four areas of the brain known to support memory for facts and events that can be consciously recalled.
The memory testing was done with patients undergoing evaluation for surgery to address seizures. These patients agreed to have their memory investigated using the electrodes implanted in their brains for surgical evaluation. It is common for people with epilepsy to have memory problems because the brain circuits that underlie memory function often are affected by epilepsy. In the study, patients were instructed to read a list of words — one at a time — from a computer screen. Electrical stimulation was applied some of this time. Patients then attempted to freely recall the words in any order.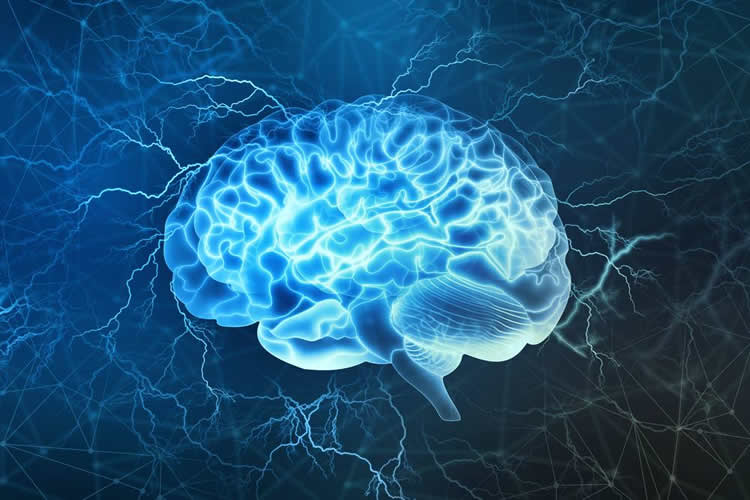 Among 22 patients, the researchers found enhanced memory performance in the four patients with stimulation of the lateral temporal cortex but not among those with the other brain regions stimulated.
"These findings may lead to new stimulation devices that treat deficits in memory and cognition," says Jamie Van Gompel, M.D., a Mayo Clinic neurosurgeon specializing in brain stimulation and an author in the study.
The authors note study limitations include pain and seizure medications that may affect patient performance, the hospital setting that may disrupt patients' sleep and wake cycles, and the fact that epilepsy affects memory.
About this neuroscience research article
Funding: The research was funded in part by Defense Advanced Research Project Agency's Restoring Active Memory program.
Source: Susan Barber Lindquist – Mayo Clinic
Publisher: Organized by NeuroscienceNews.com.
Image Source: NeuroscienceNews.com image is adapted from the Mayo Clinic news release.
Original Research: Abstract in Brain.
doi:10.1093/brain/awx373
Cite This NeuroscienceNews.com Article
[cbtabs][cbtab title="MLA"]Mayo Clinic ""Tickling" the Brain with Electrical Stimulation Improves Memory." NeuroscienceNews. NeuroscienceNews, 29 January 2018.
<https://neurosciencenews.com/memory-electrical-stimulation-8399/>.[/cbtab][cbtab title="APA"]Mayo Clinic (2018, January 29). "Tickling" the Brain with Electrical Stimulation Improves Memory. NeuroscienceNews. Retrieved January 29, 2018 from https://neurosciencenews.com/memory-electrical-stimulation-8399/[/cbtab][cbtab title="Chicago"]Mayo Clinic ""Tickling" the Brain with Electrical Stimulation Improves Memory." https://neurosciencenews.com/memory-electrical-stimulation-8399/ (accessed January 29, 2018).[/cbtab][/cbtabs]
---
Abstract
Evidence for verbal memory enhancement with electrical brain stimulation in the lateral temporal cortex
Direct electrical stimulation of the human brain can elicit sensory and motor perceptions as well as recall of memories. Stimulating higher order association areas of the lateral temporal cortex in particular was reported to activate visual and auditory memory representations of past experiences (Penfield and Perot, 1963). We hypothesized that this effect could be used to modulate memory processing. Recent attempts at memory enhancement in the human brain have been focused on the hippocampus and other mesial temporal lobe structures, with a few reports of memory improvement in small studies of individual brain regions. Here, we investigated the effect of stimulation in four brain regions known to support declarative memory: hippocampus, parahippocampal neocortex, prefrontal cortex and temporal cortex. Intracranial electrode recordings with stimulation were used to assess verbal memory performance in a group of 22 patients (nine males). We show enhanced performance with electrical stimulation in the lateral temporal cortex (paired t-test, P = 0.0067), but not in the other brain regions tested. This selective enhancement was observed both on the group level, and for two of the four individual subjects stimulated in the temporal cortex. This study shows that electrical stimulation in specific brain areas can enhance verbal memory performance in humans.
Feel free to share this Neuroscience News.