Oxytocin acts on individual brain cells to prompt specific social behaviors, a new study reports.
Inducing the release of oxytocin could be a viable option for enhancing social function in some psychiatric disorders.
Researchers reveal a mechanism by which oxytocin has an effect on interaction between the sexes.
A neuroimaging study looks at how closely the human-pet relationship mirrors the mother-child bond.
According to a new study, oxytocin appears to increase social behaviors in newborn rhesus monkeys.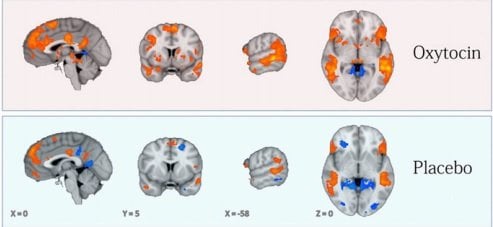 A single dose of oxytocin can enhance brain activity while processing social information in children with autism, a new study reports.
The 'love hormone' oxytocin can strengthen bad memories and induce future fear and anxiety, a new study suggests.
Shedding light on what makes people feel and act the way they do. The velvety voice of Elvis Presley still...
Oxytocin Improves Brain Function in Children with Autism Preliminary results from an ongoing, large-scale study by Yale School of Medicine...