When we watch a movie, our brains react to it immediately in a way similar to other people's brains.
Researchers at Aalto University in Finland have succeeded in developing a method fast enough to observe immediate changes in the function of the brain even when watching a movie. By employing movies it was possible to investigate the function of the human brain in experimental conditions that are close to natural. Traditionally, in neuroscience research, simple stimuli, such as checkerboard patterns or single images, have been used.
Viewing a movie creates multilevel changes in the brain function. Despite the complexity of the stimulus, the elicited brain activity patterns show remarkable similarities across different people – even at the time scale of fractions of seconds.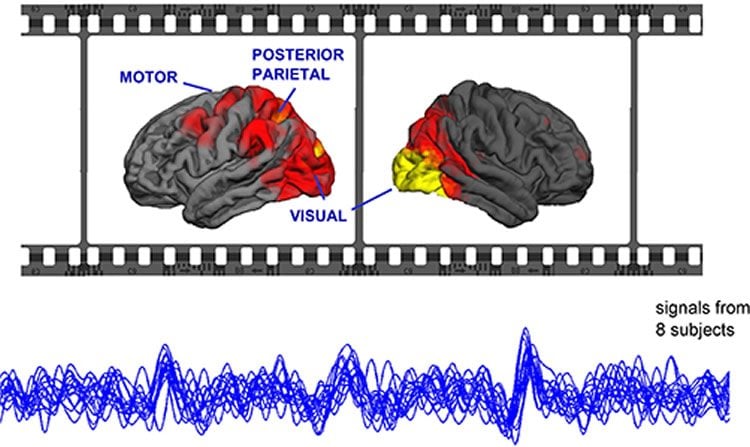 The analysis revealed important similarities between brain signals of different people during movie viewing. These similar kinds or synchronized signals were found in brain areas that are connected with the early-stage processing of visual stimuli, detection of movement and persons, motor coordination and cognitive functions. The results imply that the contents of the movie affected certain brain functions of the subjects in a similar manner, explains Kaisu Lankinen the findings of her doctoral research.
So far, studies in this field have mainly been based on functional magnetic resonance imaging (fMRI). However, given the superior temporal resolution, within milliseconds, magnetoencephalography (MEG) is able to provide more complete picture of the fast brain processes. With the help of MEG and new analysis methods, investigation of significantly faster brain processes is possible and it enables detection of brain activity in frequencies higher than before.
In the novel analysis, brain imaging was combined with machine-learning methodology, with which signals of a similar form were mined from the brain data.
The research result was recently published in the journal NeuroImage.
Notes about this neuroimaging research
Contact: Miika Koskinen, D.Sc – Aalto University
Source: Aalto University press release
Image Source: The image is adapted from the Aalto University press release
Original Research: Full open access research for "Intersubject consistency of cortical MEG signals during movie viewing" by K. Lankinen, J. Saari, R. Hari, and M. Koskinen in NeuroImage. Published online March 2014 doi:10.1016/j.neuroimage.2014.02.004
Open Access Neuroscience Abstract
Intersubject consistency of cortical MEG signals during movie viewing
According to recent functional magnetic resonance imaging (fMRI) studies, spectators of a movie may share similar spatiotemporal patterns of brain activity. We aimed to extend these findings of intersubject correlation to temporally accurate single-trial magnetoencephalography (MEG). A silent 15-min black-and-white movie was shown to eight subjects twice. We adopted a spatial filtering model and estimated its parameter values by using multi-set canonical correlation analysis (M-CCA) so that the intersubject correlation was maximized. The procedure resulted in multiple (mutually uncorrelated) time-courses with statistically significant intersubject correlations at frequencies below 10 Hz; the maximum correlation was 0.28 ± 0.075 in the ≤ 1 Hz band. Moreover, the 24-Hz frame rate elicited steady-state responses with statistically significant intersubject correlations up to 0.29 ± 0.12. To assess the brain origin of the across-subjects correlated signals, the time-courses were correlated with minimum-norm source current estimates (MNEs) projected to the cortex. The time series implied across-subjects synchronous activity in the early visual, posterior and inferior parietal, lateral temporo-occipital, and motor cortices, and in the superior temporal sulcus (STS) bilaterally. These findings demonstrate the capability of the proposed methodology to uncover cortical MEG signatures from single-trial signals that are consistent across spectators of a movie.
"Intersubject consistency of cortical MEG signals during movie viewing" by K. Lankinen, J. Saari, R. Hari, and M. Koskinen in NeuroImage March 2014 doi:10.1016/j.neuroimage.2014.02.004
Share this Neuroscience News