Summary: The nucleus accumbens plays a key role in reaction to THC exposure. Neural activity in the posterior nucleus accumbens produced higher adverse effects, such as psychosis-like symptoms. Different neurons in the NAc were associated with reward effects. The findings reveal why some people experience positive highs, while others are at risk of psychiatric side effects.
Source: University of Western Ontario
For some people, marijuana causes a rewarding high. For others, it produces serious psychiatric side effects.
Whether a person enjoys the experience or adverse effects from cannabis may well be decided by which region of the brain it's acting upon, Western researchers have determined.
The psychological effects of marijuana can differ between individuals: some experience highly rewarding effects which may lead to dependence on the drug, while others may experience paranoia, cognitive problems or an increased risk of developing schizophrenia.
"Until now, it was unknown which specific regions of the brain were responsible for these highly divergent effects of marijuana," said Steven Laviolette Ph.D., Professor at Western's Schulich School of Medicine & Dentistry.
"Translational rodent research performed in our lab has identified highly specific target regions in the brain that seem to independently control the rewarding, addictive properties of marijuana versus the negative psychiatric side-effects associated with its use."
The study, led by Laviolette and postdoctoral fellow, Christopher Norris, Ph.D., is newly published in Scientific Reports and reveals critical new insights into how marijuana can produce such highly diverse psychological effects in different individuals.
By looking at THC's effect on a rat brain, the researchers showed that THC, the main psychoactive compound in marijuana, can produce highly rewarding effects in the front-most part of a region of the brain called the nucleus accumbens.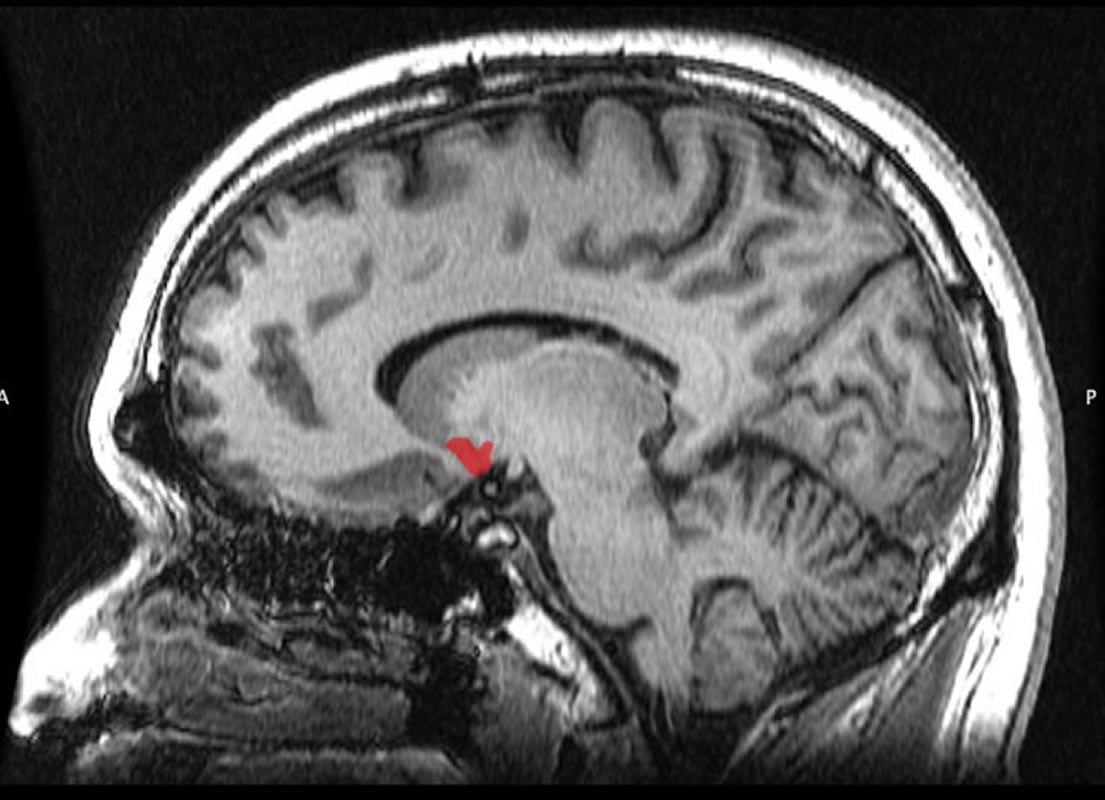 The study showed that THC in this brain area not only produced highly rewarding effects in and of itself, it amplified the addictive properties of opioid drugs like morphine and increased reward-related activity patterns in the neurons.
By contrast, THC in the posterior area of the nucleus accumbens region produced highly adverse effects.
These included more schizophrenia-related cognitive and emotional symptoms and patterns of neuron activity similar to those found in people with schizophrenia.
"These findings are important because they suggest why some people have a very positive experience with marijuana when others have a very negative experience," said Norris.
"Our data indicate that because the reward and aversion are produced by anatomically distinct areas, the different effects between individuals is likely due to genetic variation leading to differential sensitivity of each area."
About this neuroscience research article
Source:
University of Western Ontario
Media Contacts:
Steven Laviolette – University of Western Ontario
Image Source:
The image is in the public domain.
Original Research: Open access
"The Bivalent Rewarding and Aversive properties of Δ9-tetrahydrocannabinol are Mediated Through Dissociable Opioid Receptor Substrates and Neuronal Modulation Mechanisms in Distinct Striatal Sub-Regions". Christopher Norris, Hanna J. Szkudlarek, Brian Pereira, Walter Rushlow & Steven R. Laviolette.
Scientific Reports. doi:10.1038/s41598-019-46215-7
Abstract
The Bivalent Rewarding and Aversive properties of Δ9-tetrahydrocannabinol are Mediated Through Dissociable Opioid Receptor Substrates and Neuronal Modulation Mechanisms in Distinct Striatal Sub-Regions
The primary psychoactive compound in cannabis, Δ9-tetrahydrocannabinol (THC), is capable of producing bivalent rewarding and aversive affective states through interactions with the mesolimbic system. However, the precise mechanisms underlying the dissociable effects of THC are not currently understood. In the present study, we identify anatomically dissociable effects of THC within the rat nucleus accumbens (NAc), using an integrative combination of behavioral pharmacology and in vivo neuronal electrophysiology. We report that the rewarding vs. aversive stimulus properties of THC are both anatomically and pharmacologically dissociable within distinct anterior vs. posterior sub-regions of the NAc. While the rewarding effects of THC were dependent upon local μ-opioid receptor signaling, the aversive effects of THC were processed via a κ-opioid receptor substrate. Behaviorally, THC in the posterior NASh induced deficits in social reward and cognition whereas THC in the anterior NAc, potentiated opioid-related reward salience. In vivo neuronal recordings demonstrated that THC decreased medium spiny neuron (MSN) activity in the anterior NAc and increased the power of gamma (γ) oscillations. In contrast, THC increased MSN activity states in the posterior NASh and decreased γ-oscillation power. These findings reveal critical new insights into the bi-directional neuronal and pharmacological mechanisms controlling the dissociable effects of THC in mesolimbic-mediated affective processing.
Feel free to share this Neuroscience News.