NIH-funded scientists reveal how a genetic code variation results in devastating brain diseases.
New findings reveal how a mutation, a change in the genetic code that causes neurodegeneration, alters the shape of DNA, making cells more vulnerable to stress and more likely to die.
The particular mutation, in the C9orf72 gene, is the most common cause for amyotrophic lateral sclerosis (ALS, also known as Lou Gehrig's disease), and frontotemporal degeneration (FTD), the second most common type of dementia in people under 65. The mutation may also be associated with Alzheimer's and Huntington's diseases.
This research by Jiou Wang, Ph.D., and his colleagues at Johns Hopkins University (JHU) was published in Nature and was partially funded by the National Institutes of Health's National Institute of Neurological Disorders and Stroke (NINDS).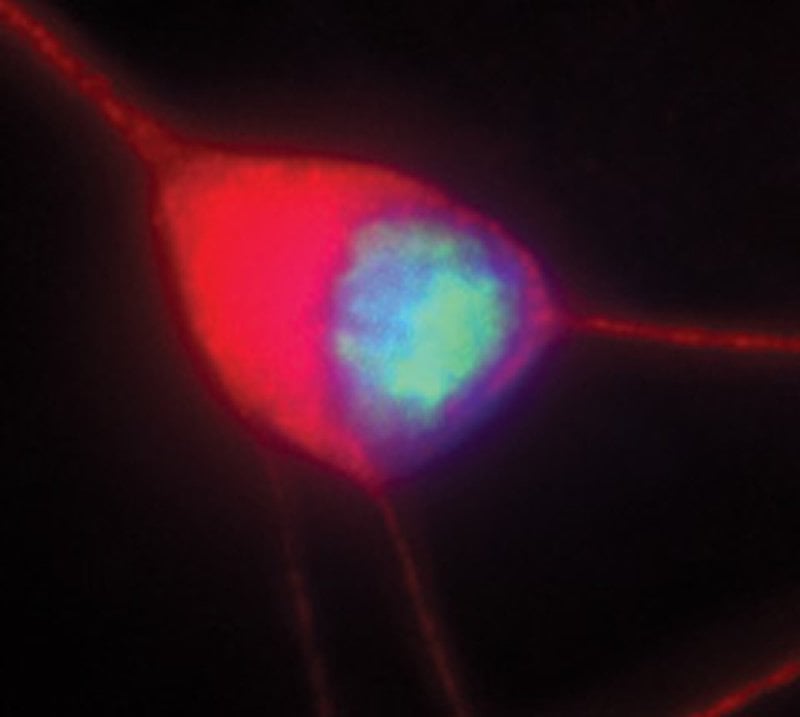 In ALS, the muscle-activating neurons in the spinal cord die, eventually causing paralysis. In FTD neurons in particular brain areas die leading to progressive loss of cognitive abilities.
DNA contains a person's genetic code, which is made up of a unique string of bases, chemicals represented by letters. Portions of this code are divided into genes that provide instructions for making molecules (proteins) that control how cells function. The normal C9orf72 gene contains a section of repeating letters; in most people, this sequence is repeated two to 25 times. In contrast, the mutation associated with ALS and FTD can result in up to tens of thousands of repeats of this section.
Using sophisticated molecular techniques, Dr. Wang and his team showed that the mutation causes changes in the three-dimensional shape of DNA. DNA is normally shaped like a twisted ladder. However, the repeating sequences can fold into G-quadruplexes, stacks of square-shaped molecules known as G-quartets. "This structure has been described as a square building with each floor representing one G-quartet, normally two to four stories high," said Dr. Wang, senior author of the paper.
Their results also showed that C9orf72 mutated DNA has profound effects on how the genetic message is processed in the cell. RNA, short for ribonucleic acid, acts as an important intermediary — a middleman — in the process that converts genetic information from DNA into functional proteins. This happens in two stages: conversion of the DNA code into RNA is called transcription; RNA then forms proteins during a process known as translation.
The investigators discovered that the mutated DNA forms DNA-RNA hybrid structures called R loops. Then they showed that G-quadruplexes and R-loops interfered with the transcription process. Cells taken from patients (containing the C9orf72 mutation) produced shorter transcription products (or transcripts) compared with control cells (without the mutation) taken from healthy volunteers.
These short transcripts result in abnormal functioning of the cell and can lead to cell death. "Unfortunately, these alternative DNA arrangements impede normal processing, much like a car encountering a series of speed bumps or the occasional roadblock while traveling to its destination," said Dr. Wang.
Findings from Dr. Wang's team also suggest that the C9orf72 mutation has an effect in the nucleolus, a cellular structure located within the nucleus (which contains the cell's DNA) and the site where initial steps in protein assembly occur. The nucleolus also plays a key role in directing the cell's response to stress.
The key protein inside the nucleolus is nucleolin. Dr. Wang teamed with Jeffrey D. Rothstein, M.D., from JHU, to study the effects of the C9orf72 mutation on nucleolin. They found that binding of the short transcription products formed by the C9orf72 mutation to nucleolin has toxic effects on cells. The researchers show that in healthy cells without the mutation, nucleolin is present only in a certain area of the nucleus, but in cells obtained from ALS patients, nucleolin is scattered throughout the nucleus. They postulate that abnormal distribution of nucleolin causes cells to become stressed and more likely to die, which can result in the pathology associated with ALS and FTD.
For those experiments, the researchers used induced pluripotent stem cells (iPSC) containing the C9orf72 mutation that were derived from the skin of ALS patients. The iPSCs can be turned into different types of cells, in this case into motor neurons, which are the cells that die in patients with ALS. The iPSC technology lets scientists study in a dish the direct effects of disease-causing human mutations on brain or spinal cord cells.
"Our new study, along with previous work, highlight the great power of ALS iPSCs," said Dr. Wang.
Dr. Rothstein is the director of the ALS iPSC Consortium, which is managed by NINDS. The consortium is a resource that was created in 2009 to develop iPSCs for the study of genetic forms of ALS. The iPSCs are stored at the NINDS Human Genetics Repository and are available for use by researchers.
"The availability of iPSCs from patients and healthy volunteers enabled Dr. Wang and his collaborators to address directly the consequences of the C9orf72 mutation in human motor neurons, the brain cells responsible for movement," said Margaret Sutherland, Ph.D., program director at NINDS.
"The findings described in Dr. Wang's paper open up a new pathogenic mechanism for ALS and FTD by providing insight into the biology associated with the C9orf72 mutation and identifying a potential path forward for therapy development," said Dr. Sutherland. For example, the alternative DNA structures (G-quadruplexes and R-loops) may be targets for potential drugs.
"Understanding the biology of C9orf72 is fundamentally important as we work with pharmaceutical companies to develop therapies for these highly devastating diseases," said co-author Dr. Rothstein.
Further research is needed to provide a complete understanding of how the C9orf72 mutation leads to disease.
Notes about this genetics and ALS research
Contact: Barbara McMakin – NIH/NINDS
Source: NIH/NINDS press release
Image Source: The image is credited to Jiou Wang, Ph.D., Johns Hopkins University and is adapted from the NIH/NINDS press release
Original Research: Abstract for "C9orf72 Nucleotide Repeat Structures Initiate Molecular Cascades of Disease" by Aaron R. Haeusler, Christopher J. Donnelly, Goran Periz, Eric A. J. Simko, Patrick G. Shaw, Min-Sik Kim, Nicholas J. Maragakis, Juan C. Troncoso, Akhilesh Pandey, Rita Sattler, Jeffrey D. Rothstein and Jiou Wang in Nature. Published online March 5 2014 doi:10.1038/nature13124