Summary: Researchers have identified neurons vital for socialized behavior in zebrasifh. The study reports, when the neurons are disabled, their orientation to one another breaks down in a similar way to socialization problems in humans with ASD.
Source: University of Oregon.
University of Oregon scientists have identified brain cells vital to how zebrafish socialize. When the neurons are disabled, their orientation to one another breaks down in ways similar to socialization problems seen in humans with autism spectrum disorders and schizophrenia.
The neurons, which have equivalent genes in mice and in humans, provide a new avenue for research on the basic biological underpinnings of social behavior, said co-author Philip Washbourne, a professor of biology and member of the UO Institute of Neuroscience who has studied autism genes for almost two decades.
The discovery is detailed in a paper published online July 26 by the journal Current Biology.
Early in the National Institutes of Health-funded study, lead author Sarah J. Stednitz, a doctoral student, noticed a regular pattern of behavior between two fish interacting socially. When placed in adjacent tanks they engaged in a get-to-know-you swimming pattern, despite the presence of a clear dividing panel between the fish.
The observation prompted the six-member research team to apply a drug known to impair the function of neurons needed for social interactions in mice. Expecting to see behavioral disruptions in the drugged fish, which the researchers did, they also saw reduced orienting behaviors by the healthy fish.
As the project progressed, fish were exposed to non-fish objects, which failed to initiate social orienting. Eventually, the research team concluded that zebrafish copy each other's motions and are dependent on another socially engaged fish to begin social orienting. The presence of another fish that is not socially engaged is insufficient to trigger interaction regardless of their proximity, a finding that mirrors reciprocal social interaction in humans.
The neurons involved in the study are in a region of the fish brain that is theorized to be the evolutionary and functional equivalent for the regulation of memory, emotion and social behavior in mammals. The research team noted that the findings "are promising for future studies into the visual circuitry required to drive social behavior."
The study came amid a shift in the approach to autism-related research in Washbourne's lab.
"We've been studying genes associated with autism and how they might work at the synaptic level in zebrafish," Washbourne said. "We'd done a lot of that in the spinal cord, but it wasn't very satisfying, because, in the end, people with autism don't have deficits in very simple reflexes.
"I wanted to find a way to get at more complex behavior that might be affected by mutations in autism genes," he said. "We thought of social behavior, which probably uses the kind of synapses that are affected in autism."
Initially, Stednitz set out to explore basic social behavior in zebrafish using an approach used by other scientists to study shoaling in fish.
"Zebrafish are social animals," Washbourne said. "They like to hang out together in groups. They shoal, they don't school unless threatened."
Shoaling refers to how fish interact in proximity with others, as opposed to schooling where fish swim in groups moving in the same direction.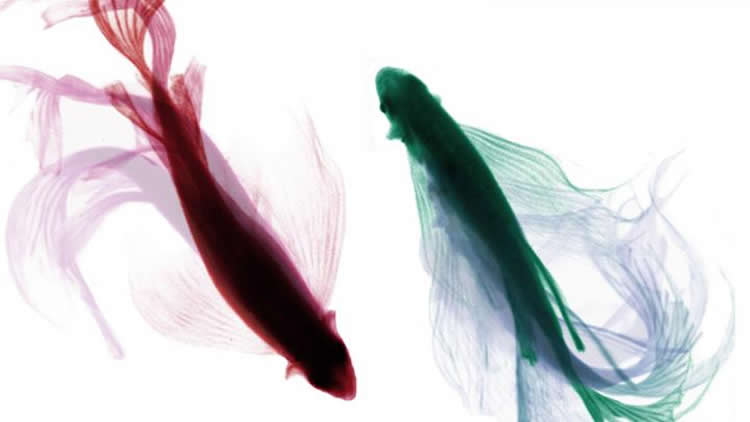 For the research, the UO team developed novel software to help measure the orientation of fish during social behaviors of some 500 zebrafish.
Definitively making a jump for human implications of the research is a long way off, but the prospect is intriguing based on the study," Washbourne said. "For now, what we're trying to do is make a model of autism," he said. "What we did in this study doesn't make a model."
In her subsequent work, Stednitz is working with mutated genes in zebrafish that may be the equivalent to mutated genes in humans to see if the fish have deficits in social behavior and are, in essence, autistic.
"If and when we have a mutant zebrafish that has deficits in social behavior, then we can ask, what can we give that fish to improve its social interaction? That could lead to drug screens and testing," Washbourne said.
About this neuroscience research article
Funding: Funding provided by National Institutes of Health.
Source: Jim Barlow – University of Oregon
Publisher: Organized by NeuroscienceNews.com.
Image Source: NeuroscienceNews.com image is credited to University of Oregon.
Original Research: Open access research for "Forebrain Control of Behaviorally Driven Social Orienting in Zebrafish" by Sarah J. Stednitz, Erin M. McDermott, Denver Ncube, Alexandra Tallafuss, Judith S. Eisen, and Philip Washbourne in Current Biology. Published July 26 2018.
doi:10.1016/j.cub.2018.06.016
Cite This NeuroscienceNews.com Article
[cbtabs][cbtab title="MLA"]University of Oregon"Zebrafish Interactions Offer Help in Studying Social Behavioral Disorders." NeuroscienceNews. NeuroscienceNews, 26 July 2018.
<https://neurosciencenews.com/social-behavioral-disorders-9614/>.[/cbtab][cbtab title="APA"]University of Oregon(2018, July 26). Zebrafish Interactions Offer Help in Studying Social Behavioral Disorders. NeuroscienceNews. Retrieved July 26, 2018 from https://neurosciencenews.com/social-behavioral-disorders-9614/[/cbtab][cbtab title="Chicago"]University of Oregon"Zebrafish Interactions Offer Help in Studying Social Behavioral Disorders." https://neurosciencenews.com/social-behavioral-disorders-9614/ (accessed July 26, 2018).[/cbtab][/cbtabs]
---
Abstract
Forebrain Control of Behaviorally Driven Social Orienting in Zebrafish
Highlights
•Orienting behavior is a sensitive measure of visual social interaction
•Social orienting is dependent on correct behavior of the social partner
•Lesioning the ventral forebrain disrupts social orienting behavior
•Orienting is controlled by an evolutionarily conserved neuronal population
Summary
Deficits in social engagement are diagnostic of multiple neurodevelopmental disorders, including autism and schizophrenia. Genetically tractable animal models like zebrafish (Danio rerio) could provide valuable insight into developmental factors underlying these social impairments, but this approach is predicated on the ability to accurately and reliably quantify subtle behavioral changes. Similarly, characterizing local molecular and morphological phenotypes requires knowledge of the neuroanatomical correlates of social behavior. We leveraged behavioral and genetic tools in zebrafish to both refine our understanding of social behavior and identify brain regions important for driving it. We characterized visual social interactions between pairs of adult zebrafish and discovered that they perform a stereotyped orienting behavior that reflects social attention. Furthermore, in pairs of fish, the orienting behavior of one individual is the primary factor driving the same behavior in the other individual. We used manual and genetic lesions to investigate the forebrain contribution to this behavior and identified a population of neurons in the ventral telencephalon whose ablation suppresses social interactions, while sparing other locomotor and visual behaviors. These neurons are cholinergic and express the gene encoding the transcription factor Lhx8a, which is required for development of cholinergic neurons in the mouse forebrain. The neuronal population identified in zebrafish lies in a region homologous to mammalian forebrain regions implicated in social behavior such as the lateral septum [4]. Our data suggest that an evolutionarily conserved population of neurons controls social orienting in zebrafish.
Feel free to share this Neuroscience News.