Researchers discover by looking at amyloid-beta and tau independently that the interaction between the proteins could be the key to the cognitive decline associated with Alzheimer's disease. As the interaction between the two proteins increased, the progression of Alzheimer's worsened.
Researchers discover traumatic brain injuries generate tau oligomers, a protein associated with Alzheimer's and other neurodegenerative diseases. The discovery could provide insight into lasting brain damage caused by TBI.
Cinnamaldehyde and epicatechin, two compounds found in cinnamon, are showing promise in the fight against Alzheimer's disease.
Researchers discover neuronal activity can stimulate tau release from healthy neurons in the absence of cell death. The study shows treatment of neurons with known biological signaling molecules increases the release of tau into the culture medium.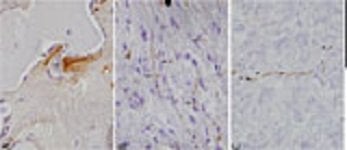 While evidence suggests pathological proteins linked to the onset and progression of neurodegenerative disorders are capable of spreading from cell-to-cell within the brains of affected individuals, new research shows no evidence to support concerns that these abnormal disease proteins are "infectious" or transmitted from animals to humans or from one person to another.
Penn Medicine research presented today at the 2012 Alzheimer's Association International Conference shows that an anti-tau treatment called epithilone D (EpoD) was effective in preventing and intervening the progress of Alzheimer's disease in animal models, improving neuron function and cognition, as well as decreasing tau pathology.
Diabetes Drug Could Be a Promising Therapy for Traumatic Brain Injury TAU research finds that existing diabetes medication may ease...
Repeated stress triggers the production and accumulation of insoluble tau protein aggregates inside the brain cells of mice, say researchers...
New research in humans published today reveals that the so-called FKBP52 protein may prevent the Tau protein from turning pathogenic....