Researchers suggest neural stem cells could be resistant to radiation. The stem cells could be roused from a hibernation-like state in order to reproduce and generate new cells which have the ability to migrate, replace injured cells and restore lost function.
Two new studies are helping to enhance how schizophrenia affects the workings of the brain and opens new approaches for future treatment options.
Examining the brains of Drosophila fruit flies, researchers discover a novel stem cell mechanism which could help explain how neurons form in humans.
Therapy to mend parts of the brain damaged by strokes has moved a step closer, thanks to research at Monash...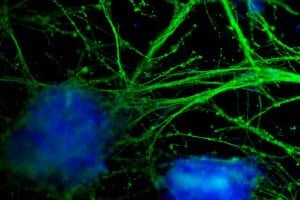 Using a sugar-coated scaffold, researchers move closer to unlocking the therapeutic use of stem cells to treat a wide range of diseases from Alzheimer's to diabetes.
A new method for obtaining mature neuronal cells from reprogrammed skin cells allows researchers to safely and effectively study diseases such as schizophrenia and autism.
Transplanted stem cells help build a 'biobridge' which links uninjured brain regions to those damaged as a result of TBI, a new study shows.
Using induced pluripotent stem cells which were grown into brain cells, researchers were provided with a way to look at early brain development in Down syndrome.
Researchers have developed a new way in which to measure the shape of the huntingtin protein in living cells.
Transplanting human stem cells into rat models with ALS improved survival and muscle function, according to a new study.