MAPC therapy reduces inflammation after TBI and also promotes lasting cognitive improvement, a new study reports.
The work will be conducted on laboratory rats modelling Parkinson's disease. The transplanted cells will be derived from skin from an adult human and will have been "reprogrammed" as nerve cells. The light-sensitive protein is obtained from a bacterium, which uses light to gain energy.
A new study finds that after a stroke, muscle synergies are activated in altered ways. Furthermore, those disruptions follow specific patterns depending on the severity of the stroke and the amount of time that has passed since the stroke. Distinctive patterns could allow doctors to develop better rehab programs for stroke patients.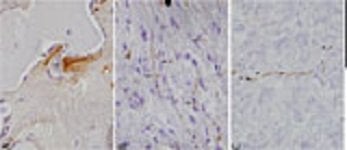 While evidence suggests pathological proteins linked to the onset and progression of neurodegenerative disorders are capable of spreading from cell-to-cell within the brains of affected individuals, new research shows no evidence to support concerns that these abnormal disease proteins are "infectious" or transmitted from animals to humans or from one person to another.
Researchers identify a protein trafficking defect within brain cells that may underlie common non-familial forms of Parkinson's disease. The study implicates two genetic variants that disrupt protein sorting in neurons.
Therapy to mend parts of the brain damaged by strokes has moved a step closer, thanks to research at Monash...
Research seeks the 'master knob' to turn on nerve repair. Modulating immune response to injury could accelerate the regeneration of severed peripheral nerves, a new study in an animal model has found. By altering activity of the macrophage cells that respond to injuries, researchers dramatically increased the rate at which nerve processes regrew.
Technique could help those with C6, C7 spinal cord injuries. Surgeons at Washington University School of Medicine in St. Louis...
Researchers believe their findings could help advance stem cell therapies related to aging and regenerative medicine.
Developmental processes are increasingly well-characterized at the molecular and cell biological levels, but how more complex tissues and organs involving...
Study is first to show feasibility and efficacy of a new use for autologous stem cell transplant. For the first...