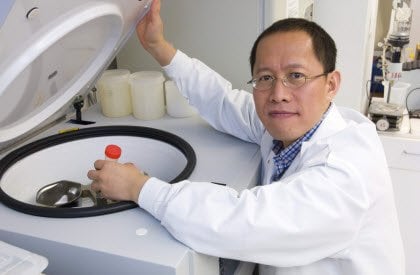 Scientists identified a sequence in the dystrophin gene that is essential for helping muscle tissues function, a breakthrough discovery that could lead to treatments for the deadly hereditary disease.
A nationwide clinical trial for a new type treatment that could offer help to those suffering from Duchenne Muscular Dystrophy, a devastating neuromuscular disease.
RTC 13 effectively counteracts 'nonsense' mutation that causes disorder. Scientists at UCLA have identified a new compound that could treat...
A team of scientists from the University of Missouri created a genetically modified mouse that mimics key features of Charcot-Marie-Tooth...
Researchers have identified a new autoimmune disease that causes muscle pain and weakness. Large-histiocyte-related immune myopathy (LHIM), generates similar results to the condition rhabdomyolysis in blood chemistry samples. LHIM can effectively be treated with anti-inflammatory drugs to help reduce symptoms.
Voluntary movements involve the coordinated activation of two brain pathways that connect parts of deep brain structures called the basal ganglia, according to a study in mice.
A study suggests that spinal muscular atrophy (SMA), a genetic neuromuscular disease in infants and children, results primarily from motor circuit dysfunction, not motor neuron or muscle cell dysfunction, as is commonly thought. In a second study, the researchers identified the molecular pathway in SMA that leads to problems with motor function.
Researchers from the Bellvitge Biomedical Research Institute at the University of Barcelona have coordinated research into how the IDPN nitrile causes neurological syndromes similar to those of the amyotrophic lateral sclerosis (ALS), a severe neuromuscular degenerative disease.
Doctors implant left ventricular assist device (LVAD) to help stop the progression of heart disease and improve the quality of life in brothers with Becker's Muscular Dystrophy.