HIV infection prevents myelin-associated oligodendrocytes from maturing, this, in turn, hampers white matter production in the brain.
Chronic viral infections have a profound and lasting impact on the immune system in a similar way to aging. Chronic inflammation that occurs as a result of immune system dysregulation is often seen in diseases associated with aging.
Lower white blood cell count associated with HIV infection was linked to decreased volume in the hippocampus and thalamus.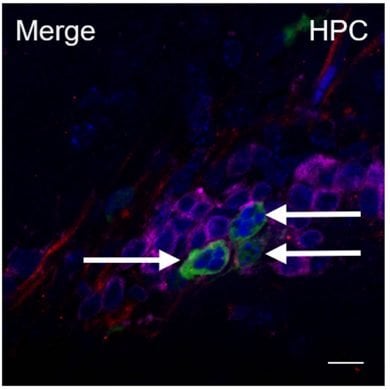 Astrocytes harbor HIV and spread the virus to CD4+ T cells that traffic the virus out of the brain and into other organs. HIV moves via this route, even when the virus is suppressed with cART.
HIV infection leads to increased EIF2 signaling in microglia, astrocytes, and neurons. Study reveals how HIV infection and some antiretrovirals affect cognition and the central nervous system.
HIV can persist in the nervous system, even when the virus is suppressed. Even when the virus is suppressed, neurocognitive problems associated with the infection can persist.
A new machine learning algorithm automatically selected important risk-related variables of HIV from millions of medical records. The algorithm can detect those most vulnerable to HIV infection and could play an important role in increasing the prescription of preexposure prophylaxis medications to prevent infection.
A newly discovered subset of dendritic cells have been implicated in sexually transmitted HIV infection. The CD11c+ dendritic cells are found in human genital tissue at the epithelial level. They are the first immune cells to interact with the HIV virus. The cells directly transfer the virus to CD4 T cells, making them key drivers in HIV transmission.
The opioid epidemic is fueling a surge in infectious diseases such as HIV, hepatitis and soft tissue infections, researchers report.
Study reveals a moderate correlation between depression and mortality in veterans with HIV, but not among those without HIV infection.