UCLA researchers report erlotinib, an FDA approved drug, reduces glucose uptake in glioblastoma, effectively cutting off nutrients and energy supply to the tumor.
Researchers at UT Southwestern report medications used to treat arthritis and lung cancer may help in the battle against glioblastoma.
Researchers have developed a new approach that uses microRNA in combination with chemotherapy to help treat glioblastoma brain cancer. In preclinical models, the approach increases survival of the deadly brain cancer five fold.
An oncogene believed to be responsible for glioblastoma brain cancer has been identified. AVIL, a gene that normally helps cells to maintain their shape and size, can shift into overdrive, causing cancer cells to form and spread. Blocking the gene's activity completely destroyed glioblastoma cancer cells in mouse models, but did not have any effect on healthy cells. The findings provide potential new treatment avenues for the deadly brain cancer.
Depriving glioblastoma brain cancer cells of cholesterol caused tumor regression and prolonged survival in mouse models of the disease, a new study reports.
Researchers have identified a biomarker that can help predict a patient's prognosis and response to therapies for glioblastoma brain cancer subtypes.
Using CRISPR-Cas9 gene editing, researchers identified actionable pathways responsible for the growth of glioblastoma stem cells. By reverse engineering brain cancer cells, multiple potential new targets for cancer treatments have been uncovered.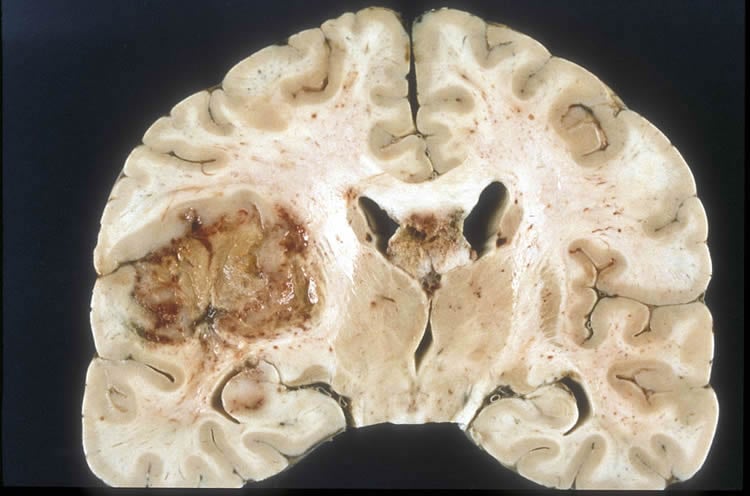 Researchers report they have discovered an innovative method that may stop the spread of glioblastoma multiforme.
New research from the University of Wisconsin-Madison explains why the incurable brain cancer, glioblastoma multiforme (GBM), is highly resistant to...
Researchers have developed a new method for creating custom tailored, two stage therapies for glioblastoma brain cancer.