Researchers at The University of Nottingham have identified three sets of genetic markers that could potentially pave the way for...
Gene involved in dementia affects the insulin pathway, reports biology professor Chris Li and colleagues. In recent years it became...
CT scans of fossilized primate skulls or skull fragments from both the Old and New Worlds may shed light on...
Researchers from Boston University School of Medicine (BUSM) have identified a novel group of proteins that accumulate in the brains...
Researchers in France and Sweden have discovered how one of the body's own proteins is involved in generating chronic pain...
You pick up your cell phone and dial the new number of a friend. Ten numbers. One. Number. At. A....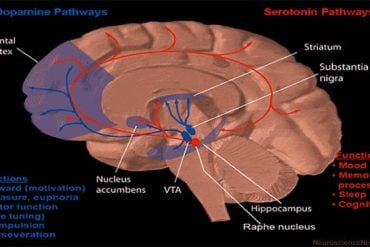 APC scientists have shown that brain levels of serotonin, the 'happy hormone' are regulated by the amount of bacteria in...
In a pair of related studies, scientists from the Florida campus of The Scripps Research Institute have identified several proteins...
New research by scientists at the University of University of North Carolina School of Medicine may have pinpointed an underlying...
Findings show new therapy has potential to help the brain as it reacts to stroke's harmful effects. Researchers at the...