Researchers have identified the cellular and molecular mechanisms that regulate selective autophagy.
A new mouse study reveals a breakdown in the process that clears brain cells of waste products precedes the buildup of amyloid plaques associated with Alzheimer's disease.
FKBP51, a protein linked to depression and anxiety disorders, also acts as a link between the stress response system and metabolic processes.
Disruption of autophagy may be at the root of the cognitive deficits experienced by those with Huntington's disease.
Loperamide, an anti-diarrhea medication, induces autophagy in glioblastoma brain cancer cells.
Chronic stress causes autophagy in adult hippocampal neural stem cells. This results in a decline of hippocampal neurogenesis. Cognitive deficits and mood disorders that arise as a result of chronic stress are a result of autophagic death of hippocampal neural stem cells.
In aging mice, the number of autophagosomes is significantly decreased, and pronounced defects in the structure of autophagosomes increased. Turning on the WIPI2B protein restores autophagosome formation in aged neurons.
Felodipine, a common hypertension medication, induces autophagy and clears aggregate-prone proteins associated with neurodegenerative diseases. The study reveals the drug clears mutant alpha-synuclein in the brains of mice at plasma concentrations to those seen in humans taking the medication. Felodipine appears to have some neuroprotective properties in mouse models of neurodegenerative diseases.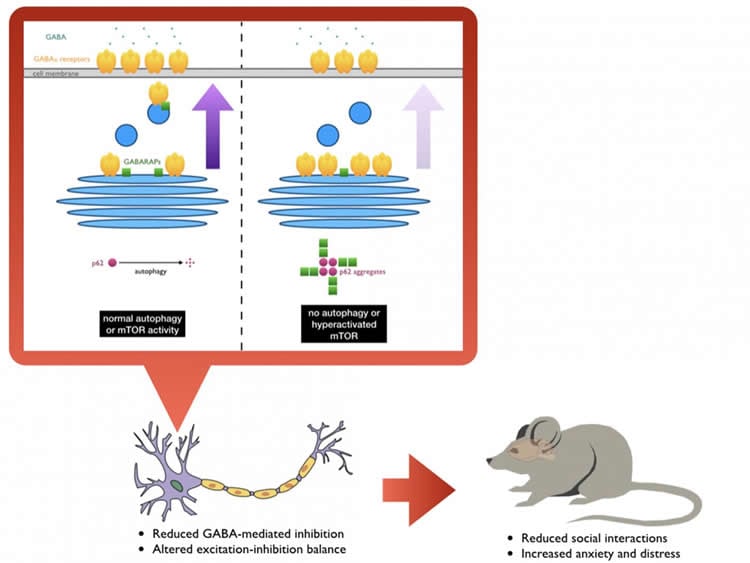 Study implicates disrupted autophagy and protein aggregation in the pathogenesis of autism schizophrenia and social behavior deficits in other disorders.
According to a new study, the immune system may play a critical role in damage associated with neurodegenerative disorders such as Alzheimer's disease and ALS. The study reports altering Cdk5 results in the death of dopamine neurons and slowed autophagy.