Summary: Researchers have discovered 250 new genes involved in brain aging, including Dbx2 which may prematurely age stem cells.
Source: Babraham Institute.
A group of genes and genetic switches involved in age-related brain deterioration have been identified by scientists at the Babraham Institute, Cambridge and Sapienza University, Rome. The research, published online today in Aging Cell, found that changes to one of these genes, called Dbx2, could prematurely age brain stem cells, causing them to grow more slowly. The study was led jointly by Giuseppe Lupo and Emanuele Cacci in Italy and Peter Rugg-Gunn in the UK.
Cells in the brain are constantly dying and being replaced with new ones produced by brain stem cells. As we age, it becomes harder for these stem cells to produce new brain cells and so the brain slowly deteriorates. By comparing the genetic activity in brain cells from old and young mice, the scientists identified over 250 genes that changed their level of activity with age. Older cells turn some genes, including Dbx2, on and they turn other genes off.
By increasing the activity of Dbx2 in young brain stem cells, the team were able to make them behave more like older cells. Changes to the activity of this one gene slowed the growth of brain stem cells. These prematurely aged stem cells are not the same as old stem cells but have many key similarities. This means that many of the genes identified in this study are likely to have important roles in brain ageing.
The research also identified changes in several epigenetic marks – a type of genetic switch – in the older stem cells that might contribute to their deterioration with age. Epigenetic marks are chemical tags attached to the genome that affect the activity of certain genes. The placement of these marks in the genome change as we age and this alters how the cells behave. The researchers think that some of these changes that happen in the brain may alter causing brain stem cells to grow more slowly.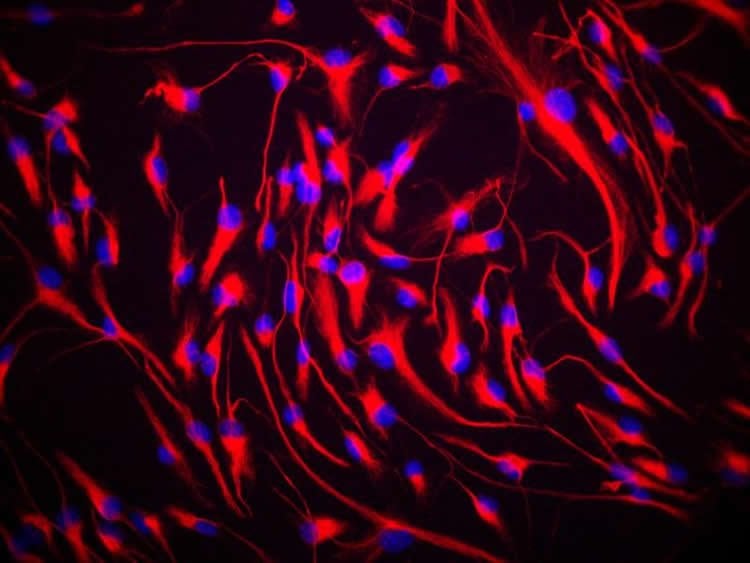 First author on the paper, Dr Giuseppe Lupo, Assistant Professor at Sapienza University said: "The genes and gene regulators that we identified are corrupted in neural stem cells from older mice. By studying the Dbx2 gene we have shown that these changes may contribute to ageing in the brain by slowing the growth of brain stem cells and by switching on the activity of other age-associated genes."
Co-lead scientist Dr Peter Rugg-Gunn at the Babraham Institute said: "Ageing ultimately affects all of us and the societal and healthcare burden of neurodegenerative diseases is enormous. By understanding how ageing affects the brain, at least in mice, we hope to identify ways to spot neural stem cell decline. Eventually, we may find ways to slow or even reverse brain deterioration – potentially by resetting the epigenetic switches – helping more of us to stay mentally agile for longer into old age."
Co-lead scientist Dr Emanuele Cacci at Sapienza University said: "We hope this research will lead to benefits for human health. We have succeeded in accelerating parts of the ageing process in neural stem cells. By studying these genes more closely, we now plan to try turning back the clock for older cells. If we can do this in mice, then the same thing could also be possible for humans."
About this neuroscience research article
Funding: Biotechnology & Biological Sciences Research Council UK, Wellcome Trust, Sapienza University of Rome, Spanish Ministry of Economy funded this study.
Source: Jonathan Lawson – Babraham Institute
Publisher: Organized by NeuroscienceNews.com.
Image Source: NeuroscienceNews.com image is credited to Dr. Giuseppe Lupo.
Original Research: Open access research in Aging Cell.
doi:10.1111/acel.12745
Cite This NeuroscienceNews.com Article
[cbtabs][cbtab title="MLA"]Babraham Institute "Genes for Age Related Brain Deterioration Discovered." NeuroscienceNews. NeuroscienceNews, 6 March 2018.
<https://neurosciencenews.com/genetics-aging-neurodegeneration-8593/>.[/cbtab][cbtab title="APA"]Babraham Institute (2018, March 6). Genes for Age Related Brain Deterioration Discovered. NeuroscienceNews. Retrieved March 6, 2018 from https://neurosciencenews.com/genetics-aging-neurodegeneration-8593/[/cbtab][cbtab title="Chicago"]Babraham Institute "Genes for Age Related Brain Deterioration Discovered." https://neurosciencenews.com/genetics-aging-neurodegeneration-8593/ (accessed March 6, 2018).[/cbtab][/cbtabs]
---
Abstract
Molecular profiling of aged neural progenitors identifies Dbx2 as a candidate regulator of age-associated neurogenic decline
Adult neurogenesis declines with aging due to the depletion and functional impairment of neural stem/progenitor cells (NSPCs). An improved understanding of the underlying mechanisms that drive age-associated neurogenic deficiency could lead to the development of strategies to alleviate cognitive impairment and facilitate neuroregeneration. An essential step towards this aim is to investigate the molecular changes that occur in NSPC aging on a genomewide scale. In this study, we compare the transcriptional, histone methylation and DNA methylation signatures of NSPCs derived from the subventricular zone (SVZ) of young adult (3 months old) and aged (18 months old) mice. Surprisingly, the transcriptional and epigenomic profiles of SVZ-derived NSPCs are largely unchanged in aged cells. Despite the global similarities, we detect robust age-dependent changes at several hundred genes and regulatory elements, thereby identifying putative regulators of neurogenic decline. Within this list, the homeobox gene Dbx2 is upregulated in vitro and in vivo, and its promoter region has altered histone and DNA methylation levels, in aged NSPCs. Using functional in vitro assays, we show that elevated Dbx2 expression in young adult NSPCs promotes age-related phenotypes, including the reduced proliferation of NSPC cultures and the altered transcript levels of age-associated regulators of NSPC proliferation and differentiation. Depleting Dbx2 in aged NSPCs caused the reverse gene expression changes. Taken together, these results provide new insights into the molecular programmes that are affected during mouse NSPC aging, and uncover a new functional role for Dbx2 in promoting age-related neurogenic decline.
Feel free to share this Neuroscience News.